Rate Information, Cases + FAQs
FOR INFORMATION ABOUT THE MOST CURRENT RATE CHANGES, PLEASE VISIT OUR BLOG.
San Jose Water's rates are set by an independent third party, the California Public Utilities Commission (CPUC). The CPUC's mission is to protect utility customers and to make sure that the rates charged by all utilities are fair and reasonable. The CPUC also ensures that all necessary improvements are made to the water system and that the system is operated efficiently. The water rates charged by San Jose Water are based upon "cost of service," which means that the majority of every dollar our customers pay goes directly to system operations.
The California Public Utilities Commission approved new water rates for San Jose Water customers in 2016. Water rates are increasing because San Jose Water's (SJW) costs are increasing. Much of our local water system infrastructure was constructed more than 50 years ago and has reached the end of its useful life. In order to protect public health and safety and to deliver safe and reliable water service, SJW must continue to replace and upgrade water system components such as new water mains, tanks, wells, and treatment plants. SJW has multiple projects in the works to better and more sustainably serve its customers.
In January 2018, SJW filed its next General Rate Case application for the year's 2019-2021. New rates were approved by the CPUC and became effective January 1, 2019.
Rate Cases
General rate cases are litigated proceedings before the CPUC that establish San Jose Water's base rates for a three-year period. Pursuant to state law, San Jose Water is required to file a general rate case filing with the CPUC every three years. In the general rate case process, the CPUC sets rates to cover the costs of providing water service and to allow the company to earn a reasonable return on its investment in water system infrastructure. Major costs to operate a water system include purchased water, groundwater extraction tax, electric power, water treatment costs, and labor. The processing of San Jose Water's filing generally takes the following 12-month path:
San Jose Water reviews its historical costs, projected costs, and planned water system improvements and prepares a General Rate Case application for consideration by the CPUC.
The CPUC's Office of Ratepayer Advocates (ORA) audits San Jose Water, analyzes its application, and makes a recommendation.
The CPUC hosts a public hearing to receive input from customers on the application. Customers may also write to the CPUC.
The CPUC holds a formal hearing, which is much like a court proceeding.
A CPUC Administrative Law Judge assigned to the application issues a proposed decision.
The CPUC Commissioners vote on the proposed decision.
What are the rates authorized by the California Public Utilities Commission?
As required by law, SJW filed an application with the Commission in January 2018 for new rates effective 2019, 2020, and 2021. After a thorough and comprehensive review spanning 18 months, the Commission issued its final decision on November 29, 2018 on the three-year proposal.
How will the CPUC's decision impact my water bill?
The 2019 rate increase became effective January 1, 2019. For the typical customer with a 3/4-inch meter using 11 units of water, the total average monthly water bill increased by approximately 5.12% or $4.32. This equates to an increase of 14 cents per day. 
The decision allows San Jose Water to recover up to 40 percent of its revenue through the monthly service charge thereby reducing the revenue collected through the volumetric water quantity charge. This supports rate stabilization and reduces rate uncertainty for customers if usage declines below Commission projections. Changes were made to both the monthly service charge and the volume charge (per CCF),
Water service will remain at about a penny a gallon making it one of the lowest cost utility bills—a true bargain considering the resources and expertise it takes to treat and deliver safe and reliable water to your tap 24 hours a day, 365 days a year. For most households, you can cook, clean, and do laundry for less than $3 a day. When compared to other products we use every day (milk $4/gallon, gasoline $3/gasoline, bottled water $12/gallon, coffee $16/gallon), tap water remains one of the best deals around.
How can SJW help customers manage their water bills?
SJW offers a comprehensive water conservation program to help customers use water more efficiently. We have informational brochures and offer free water check-ups to all customers. You can contact us to set up your complimentary home inspection to check for leaks, evaluate indoor and outdoor usage, and make recommendations on ways to use water more efficiently. Additionally, SJW offers a Water Rate Assistance Program (WRAP) for qualified low-income customers. The WRAP provides a 15 percent discount on the total water bill to customers who qualify.
Will SJW seek additional rate increases?
SJW is required by law to file an application once every three years for the following three-year period. As SJW's more than 2,400 miles of water mains and other infrastructure reaches the end of its life and must be continually replaced, the costs to replace that material go up. Generally, it is the cost of replacing outdated infrastructure that puts pressure on rates.
Why were these increases necessary?
SJW has been providing water service since 1866. Much of the water system was constructed more than 50 years ago and has reached the end of its useful life. In order to protect public health and safety and to deliver safe and reliable water service, the company must continue to replace water system components rather than waiting until failure occurs.
The new rates reflect escalating operating costs and significant water system replacement costs for mains, tanks, and wells that allow the company to continue to provide safe and reliable water service. Key projects being undertaken in 2016 include:
Replacing approximately 24 miles of water mains to maintain reliable service
Completely reconstructing our water treatment plant facility to maximize the use and availability of our local, low-cost, and high-quality surface water supply
Installing 5.5 miles of recycled water mains to expand the recycled water distribution network and ensure reliable water supplies
Safe and reliable water service is essential for maintaining public health, firefighting capability, and economic prosperity, all things that contribute to the quality of life we enjoy.
Can't SJW reduce costs instead of raising rates?
SJW works hard to provide the highest quality water service at the lowest possible costs. There are many actions we are taking to maintain our utility:
Investing in water main replacements
Upgrading aging storage facilities like tanks and wells
Complying with more stringent water quality standards
Paying for higher water supply costs
We take our commitment to our one million customers seriously and work hard to make sure we monitor costs to keep them as low as possible while still meeting the challenges of a growing population, increasingly more expensive water supplies, and an aging water system.
How have costs increased compared to past years?
Water system replacement costs have more than doubled in the past fives years. Staffing costs to deal with new financial reporting and water quality regulations also have risen by almost 50 percent in the past five years. Wholesale water rates have increased approximately 20 percent per year over the last two years.
What has SJW done to keep rates low?
SJW has an excellent track record of operating an efficient utility. Over the last five years, SJW's operating costs (including operations, maintenance, purchased power, and administrative expenses), as a percentage of overall costs, have decreased. The number of customers served per employee has remained relatively stable over the last 20 years. The company's non-revenue water loss (volume not billed as a result of leaks, theft, firefighting, and water quality activities) of less than seven percent remains one of the industry's lowest.
Where does my dollar go?
About half of every dollar received from customers goes to cover costs that are beyond the control of SJW in the form of taxes and water supply costs. Other major cost drivers are shown below.
Water Supply Costs (38 cents) - This portion includes costs from the Santa Clara Valley Water District for both the purchase of treated water and the charge to extract groundwater from the underground aquifer.
Operating Costs (22 cents) - Your 22 cents go toward "keeping the lights on" — literally and figuratively — by funding operations, maintenance, purchased power and administrative expenses.
System Improvements (21 cents) -  Water infrastructure health is a major issue across the country, with our national drinking water infrastructure recently receiving a D grade from the American Society of Civil Engineers. One of the reasons for that is many municipalities allow pipes and systems to continue service past their recommended end of life. SJW works to avoid such issues by continually looking for ways to refresh its systems and improve your water service.
Taxes and Fees (11 cents) - Everybody has to pay them. This includes federal, state and local taxes.
Cost of Capital (8 cents) - To maintain and improve water service, SJW needs to take out loans. This portion of your dollar covers the interest paid on the debt and the return paid on the equity required to finance water system improvements.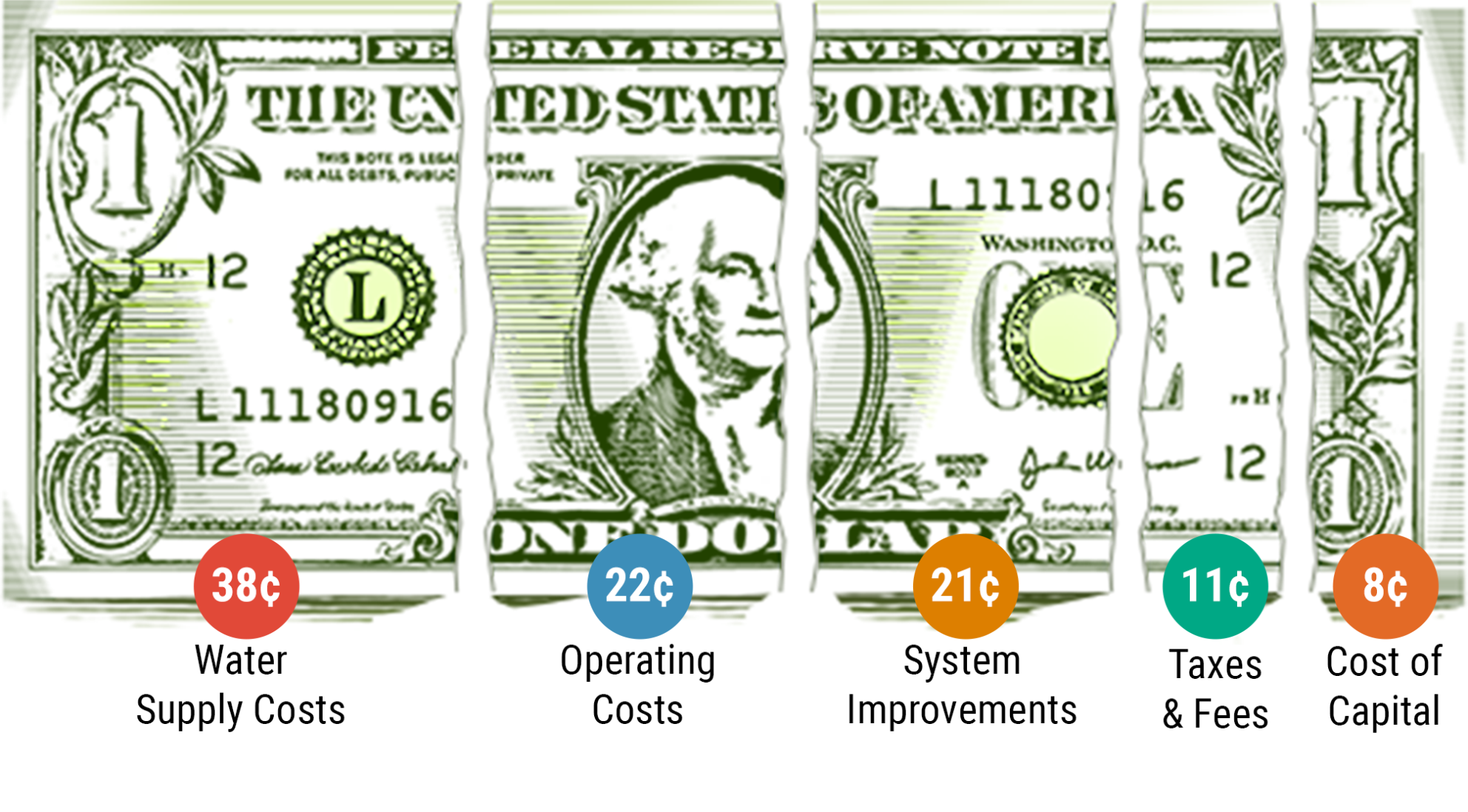 Why do I have to pay more for using less water?
The water utility industry is the most capital-intensive utility industry. It is very expensive to install new or replace old water mains, build new tanks, and drill new wells. SJW, as well as other water utilities, have a high level of fixed costs. During times when water sales are declining due to conservation efforts, fixed costs will still have to be recovered to maintain safe and reliable water service. For more information on the relationship between rates and conservation, click here.
How are water rates determined?
The California Public Utilities Commission (CPUC), a constitutional agency headquartered in San Francisco, reviews water companies' applications for new rates. SJW submitted its rates application with CPUC in January 2018 for new rates for 2019, 2020, and 2021, based on SJW's anticipated costs. SJW's water rates remain at less than a penny per gallon, making SJW one of the lowest-cost utility bills you can expect to see.
Are water rates fixed?
Water rates follow a formula that includes both fixed and variable components defined by the CPUC's ratemaking process. In order to make sure SJW can serve you well now and into the future, it occasionally has to adjust bills to recoup the costs of your water service when the formula produces a water bill that costs you less than it cost SJW to deliver the service — an unsustainable outcome. Rates are based on estimated water sales. If sales are lower than anticipated, adjustments may be necessary to make sure that expenses are covered.
Who pays water rates when renting?
That depends upon your lease agreement with your landlord. Be sure to establish in your lease who is responsible for water bills. Confusion can lead to unpaid bills, which can lead to unexpected shutoffs and back payments.
How much do water rates cost per month?
Water is the most capital-intensive utility industry and many factors go into calculating your water rates. Customers can find their rates in the General Rate Schedule for General Metered Service. Other rates for special circumstances can be found among the other rate schedules. Of course, these rate schedules are just the beginning. You can find out more about the factors that determine how much you pay in our post, "What's Water Worth." Our billing example also provides more information on the different charges on your bill.