The following is an overview of the information located on your billing statement. Below it you'll see explanations for each numbered section.
Image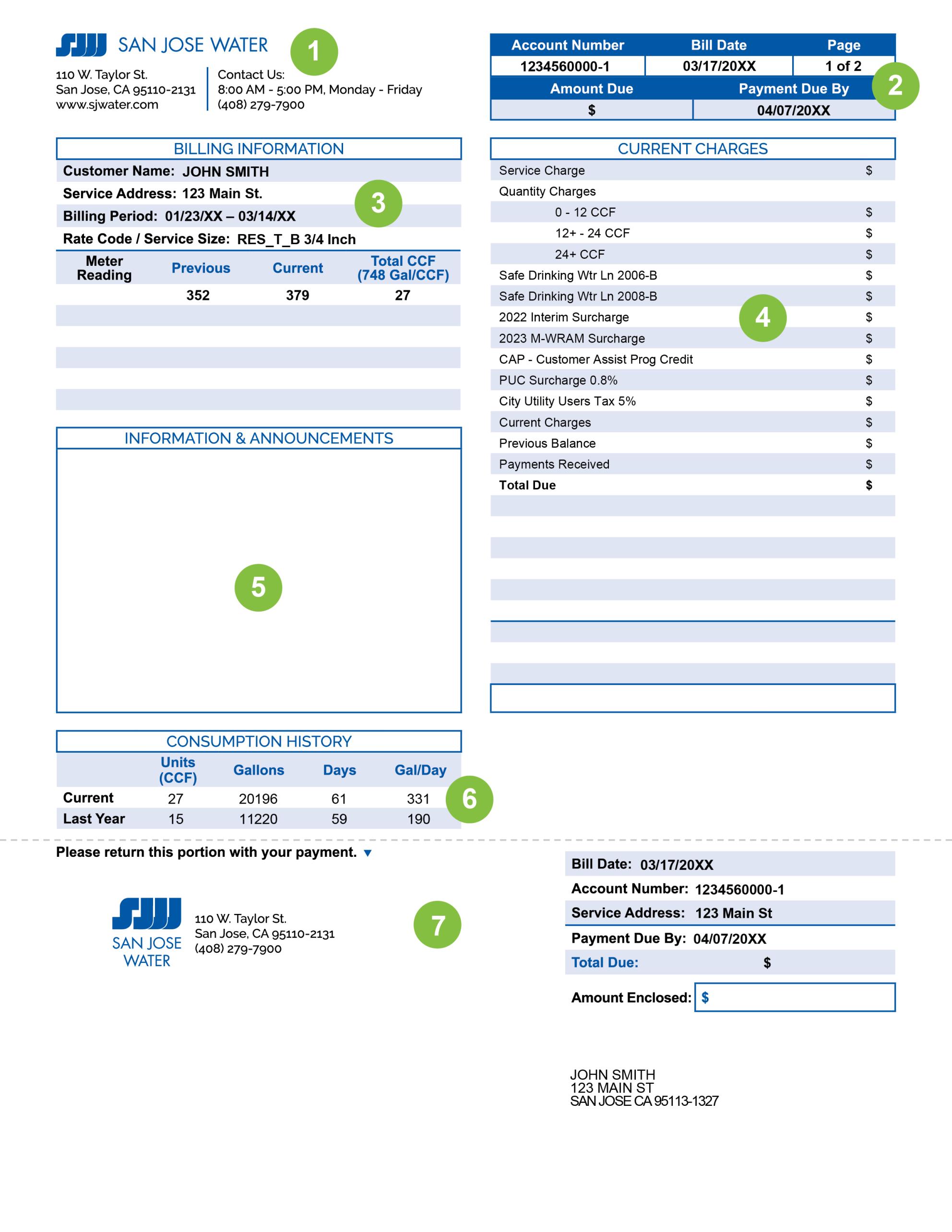 1.  Account Information - Customer Name/Address, Service Account Number, Bill Date, Amount Due and Payment Due Date. 
2.  Contact Information - Customer Service payment dropbox location, phone number and website.   
3.  Billing Information - This section includes your service address, date range of the billing period, rate schedule code and water service size, previous and current meter readings, and total usage for the billing period. *For additional general rate information, please visit our Rates and Regulations Page.
4.  Current Charges - There are many costs related to providing reliable water service and ensuring your water consistently meets drinking standards. This section includes the service charge, quantity charges, list of fees, surcharges, and taxes (if applicable). Quantity charges are measured in CCF. (1 CCF = 100 cubic feet = 748 gallons).
Service Charge - The service charge is a charge applied to all customers regardless of how much water is used. The service charge is commonly used by all water utilities to cover a portion of their costs to operate and maintain water systems. These fixed expenses are related to ensuring water is provided to your property, ready to use and constantly meets drinking standards. Examples of fixed expenses: water testing, keeping pressure within our water mains, and continued maintenance on our meters and water mains. CPUC refers to the service charge as a readiness-to-service charge. The service charge is added to the water quantity rate. To find out how your service charge is calculated each billing period, go to our Service Charge webpage. For more information, please watch our short Rates, Conservation, and the Value of Water video.  
Quantity Charges - Water usage charge for actual water used during billing period. Residential tiered rates are prorated based on the following: 

1st tier = 0 - 6 CCF/month (0 - 12 CCF bimonthly) 
2nd tier = 6+ - 12  CCF/month (12+ - 24 CCF bimonthly) 
3rd tier = Over 12 CCF/month (24+ CCF bimonthly) 

Surcharges, Fees, Taxes, Current Charges, Previous Balance, Payments, Total Due  
Safe Drinking Water Loan - Monthly surcharge authorized by the CPUC to repay a 20-year low interest Safe Drinking Water State Revolving Fund Loan funded in 2006 and 2008, used to finance water quality improvements at SJW's Montevina Water Treatment Plant. 
Rate Assistance Program Surcharge - Monthly surcharge authorized by the CPUC to fund SJW's Customer Assistance Program (CAP), formerly known as Water Rate Assistance Program (WRAP). 
True-up Surcharges - To amortize the under-collection for General Rate Case Interim Rates Memorandum Accounts, surcharge(s) per 100 cubic feet is to be added to the quantity rate shown for a period of time beginning with the effective date of the advice letter(s). 
M-WRAM Surcharge - Monterey Style Water Revenue Adjustment Mechanism (M-WRAM) is a rate-making mechanism that tracks the revenue generated through the uniform quantity rate (Tier 2 rate) and the revenue generated through tiered rates. Approved by the California Public Utilities Commission (CPUC), the M-WRAM can track the under- or over-collection of revenue due to higher or lower revenue generated through tier rates.  It mitigates the effects tier rates has on the company's quantity revenue so company can encourage conservation through tier rates design.
PUC Surcharge - The surcharge is authorized by the California Public Utilities Commission. All of the above charges are multiplied by 0.8%. Funds generated are remitted to the CPUC. 
City Utility Users Tax - City of San Jose Municipal Code 4.68.090. Every customer in the City of San Jose shall pay a tax of 5% on all the charges billed for water and service, including CPUC surcharge. 
5.  Information & Announcements - Important information, news, or announcements including water use allocations for the billing period, effective dates, and information for approved rates or surcharges. 
6.  Consumption History - This information will identify your usage for the current and previous year.
Gallons = Total CCF x 748
Total days in the billing period and gallons per day = total gallons divided by the total days in the billing period. 
7.  Payment Stub - Remit bottom portion of bill with payment by payment due date.