Image
PFAS – What's in my water?
Water Quality/PFAS Webinar
What are PFAS?
PFAS are a group of man-made chemicals that do not break down easily in the environment — even over a period of time. They are sometimes referred to as the forever chemicals. The PFAS family of chemicals include Perfluorooctane Sulfonate ("PFOS") and Perfluorooctane Acid ("PFOA"). PFOS and PFOA are regulated by the State of California.
These compounds have been widely used in industrial applications since the 1940s including:
Fabrics for furniture
Paper packaging for food and other materials resistant to water, grease or stains
Firefighting foams
Various industrial processes
Waterproof/stain-resistant fabrics and clothing
Image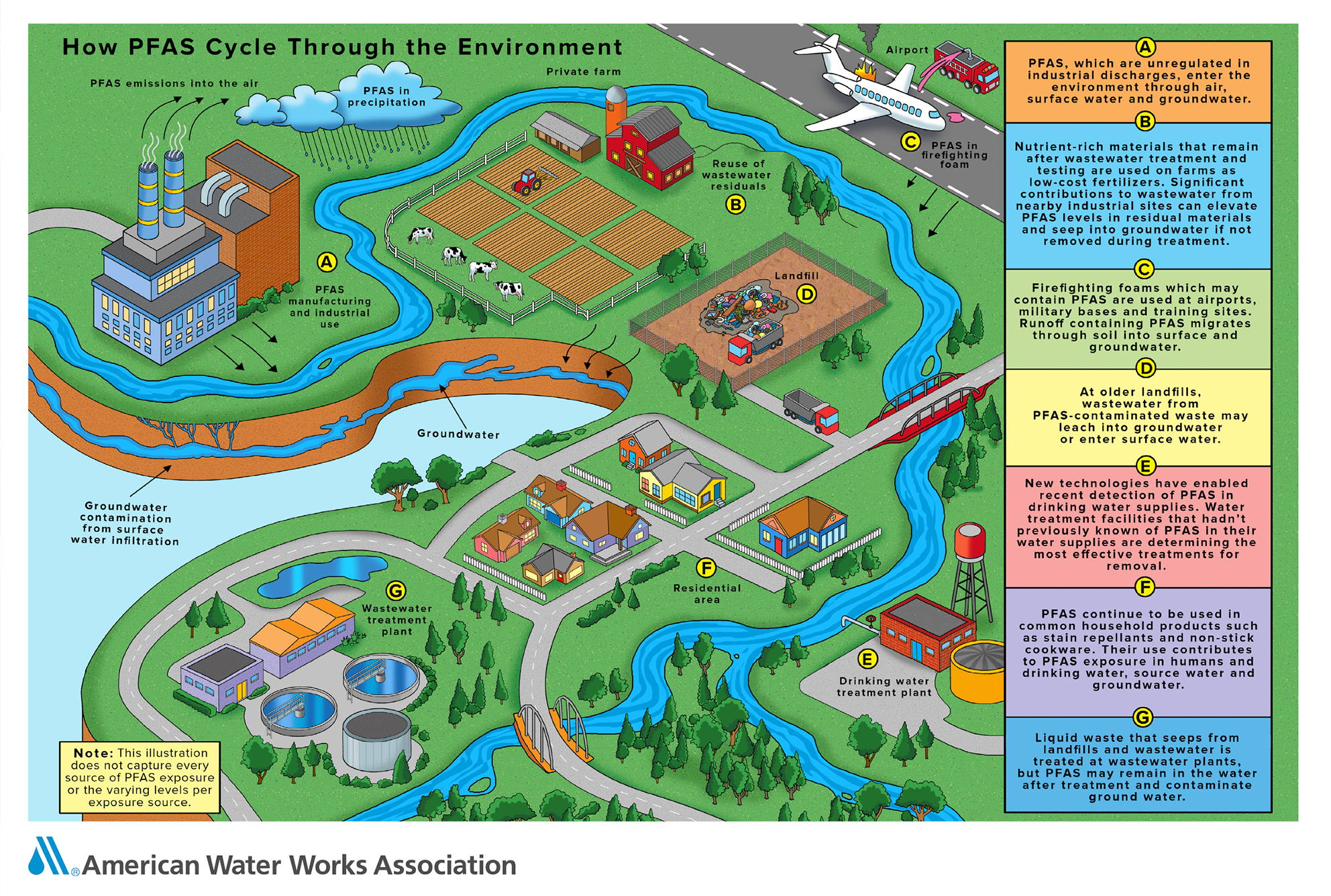 What is San Jose Water doing about PFAS?
We regularly test our water. In fact, more than 4,000 samples are taken yearly to ensure our water meets or surpasses all state and federal drinking water standards, including sampling for PFAS.
Beginning in March 2019, we voluntarily and proactively monitored all of our wells for PFAS and have taken out of service ten wells where we found concentrations above the State of California Notification Level. SJW continues to be proactive in protecting public health. 
Currently, San Jose Water is monitoring 43 wells quarterly and the rest of the wells we have are monitored annually to ensure that the groundwater quality does not change. We continue to put any well that exceeds the notification limit out of service.
Many agencies are looking at PFAS.
The United States Environmental Protection Agency (EPA) issued a PFAS Action Plan in February 2019 with a goal to identify EPA-led short-term actions, longer-term research, and potential regulatory approaches designed to reduce the risks associated with PFAS in the environment.
The California Water Resources Control Board Division of Drinking Water established Notification and Response Levels for PFAS and PFOS in August of 2019.
The California Office of Environmental Health Hazard Assessment is working on establishing a Public Health Goal (PHG) for both PFOA and PFOS. A PHG is the level of a drinking water contaminant at which adverse health effects are not expected to occur from a lifetime of exposure.
Is my water safe?
Yes! Your water supply continues to be safe for all use.
More information about your water quality is available on our website at https://www.sjwater.com/customer-care/help-information/water-quality
Our Water Quality Report is published annually and available on our website at www.sjwater.com/ccr .
We are also happy to provide a copy of our annual Water Quality Report by mail. 
---
Updated June 22, 2020
Our top priority at San Jose Water is delivering safe, high-quality and reliable water service to our customers and communities. We immediately discontinued the use of two of our wells at Malone Road Station upon discovering concentrations of perfluorooctane sulfonate (PFOS), a manmade substance widely used in consumer products from carpeting to Teflon pans. All affected customers have been notified by letter.
SJW took this step out of an abundance of caution. The PFOS concentrations in the wells did not rise to the level at which we are required to discontinue the use of our wells, but we want to be vigilant about ensuring the safest and highest quality water for our service areas.
As a result, if you received water from the two affected Malone wells, your source of water has been changed to a different well.  
There is no need for any action on your part. We will continue to do our work to make sure you receive safe and high-quality water every day.
Updated February 17, 2020 – A statement from Eric Lacy, District Engineer from the Division of Drinking Water, to Dr. Sara Cody, the County Public Health Officer:
"We believe San Jose Water has been proactive, very forthcoming with information and has acted in a responsive and timely manner.  They have sampled all of the operational wells and learned of these detections without our prompting or order.  Most importantly, they have chosen to discontinue use of 6 of these wells as a precautionary measure when not required to by our Program.  Instead, our Program is asking for wells to be taken out of service once they exceed our Response Level.  None of the SJW wells are near the newly adopted (2/6/20) State RL of 40 for PFOS."
---
Updated February 13, 2020 - We recently sent out a letter to over 11,000 customers regarding our response to PFAS, a group of man-made chemicals, used by many manufacturing companies (furniture, cookware, flame retardant fabric) since the 1940s. We did this in the interest of transparency to keep our customers informed about what we are doing to keep their water safe. 
We began proactively monitoring our wells in 2019. Please note that the state recently-established new lower notification and response levels.
To ensure our customers receive the highest quality water possible and out of an abundance of caution, we took six wells (of the approximately 90 in our system), which showed detectable levels of PFAS, out of service. Please be assured that your water continues to meet all standards set by Federal and State regulatory agencies. We are committed to the protection of public health and will take every measure possible to ensure the safety of our customers' water supply.
No San Jose Water customers are receiving water with concentrations of PFAS/PFOS over the notification limit. 
Notification Levels are health based advisory levels established by the SWRCB Division of Drinking Water for chemicals in drinking water that lack a regulatory Public Health Goal (PHG).
San Jose Water continues to deliver water that meets or surpasses all state and federal water standards.
Taking these wells out of service is not required by regulation and was done as a precautionary measure while SJW studies its options, including installing treatment at its groundwater stations.
Water quality is a rapidly changing field in the water industry. Technology is evolving and we are now able to identify substances that we have not been able to monitor before. Water quality regulations are more stringent than ever to ensure public health protection. Items that were once measured in parts per thousand and are now measured in parts per trillion. One thing that has not changed, is our close working relationship with regulators at the California Department of Drinking Water and Santa Clara County Health Department. We will continue to work with them to monitor their work to regulate this chemical as well as to keep our customers informed. Our driving mission is to provide safe drinking water to all our customers.
PFAS in the water supply is a national water quality issue. With widespread use of the chemicals in many foods, common household goods, wildlife, and industry processes, it's hard to avoid. While some PFAS chemicals are no longer in use, they are hard to breakdown and can accumulate over time.
You can read more about PFAS at:
We are committed to the protection of public health and will take every measure possible to ensure the safety of your water supply.
December 5, 2020
There's a lot in the news these days about PFAS (polyfluoroalkyl substances), sometimes called a "forever chemical" in water. PFAS are compounds that can be found in some water supplies.
Like you, we are concerned about public health and remain committed to providing high-quality, safe drinking water to our customers.
---
More information about PFAS from Valley Water can be found here. 
This 2020 PFAS summary includes the year in review.