San Jose Water Wins Globee® in the 6th Annual 2021 American Best in Business Awards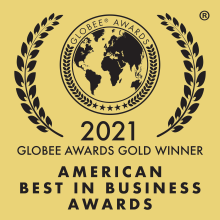 The company is honored to have been the recipient of additional awards in 2021.
San Jose, CA – August 5, 2021
San Jose Water ("SJW" or "the Company"), a wholly-owned subsidiary of SJW Group (NYSE: SJW), announced today that the Globee® Awards, organizers of the world's premier business awards programs and business ranking lists, has recognized the Company with two awards. SJW was named a Gold Award winner for Company Response of the Year during COVID-19. In addition, the Human Resources Department was honored with a Silver Award for Team of the Year during COVID-19.
The American Best in Business Awards are open to all organizations with at least one or more offices in the U.S. More than 35 judges from a wide spectrum of industry experts participated in the judging process.
Among its actions to go above and beyond during COVID-19, the Company instituted a public outreach campaign to reassure and inform customers, including everything from scientific data on the safety of their water, to key communications on flexible and extended payment plans. SJW served as a Commodities Point of Distribution for providing PPE to water utilities across California, ensuring all agencies had adequate supplies. SJW also participated in efforts such as preparing "ship kits" for organizations supporting local families in need through the San Jose Rotary Club, as well as donating funds to Valley Medical used for PPE.
The HR team was the front line to an incredible array of employee needs, questions and life-threatening issues as they learned "on the go" to provide extraordinary service to over 350 people.  This group had to become well versed in ever-changing federal, state and county regulations, along with creating new policies and procedures for immediate implementation. There were also emails, newsletters and webinars with information on resources for health and mental health struggles.
"San Jose Water is committed to the health and safety of its employees, customers and community. We are very proud to be recognized by the Globee Awards," said Andy Gere, President of San Jose Water. "2020 was a year for the history books, a time to step up
support for our communities facing extraordinary circumstances. Our teams were able to pivot and focus on what really mattered — ensuring the delivery of high quality and reliable water service to all of our customers.  In addition, our HR team demonstrated compassionate leadership and empathy for others — critical to our workforce."
In addition to winning two Globee awards, SJW has also been recognized by:
A Gold Hermes Creative award for its multilingual Water Rate Assistance Program (WRAP) promotional campaign;
A Communitas award for Leadership in Community Service and Corporate Social Responsibility; and,
Two Gold dotComm awards for a "Rate Dollars at Work" video series, and Digital Brand awareness campaign.
Head to the SJW awards page to learn more about the Company's recent recognitions.
About San Jose Water
Founded in 1866, San Jose Water is an investor owned public utility, and is one of the largest and most technically sophisticated urban water systems in the United States. The company serves over one million people in the greater San Jose metropolitan area. San Jose Water is owned by SJW Group, a publicly traded company listed on the New York Stock Exchange under the symbol SJW. SJW Group also owns: Connecticut Water Company in Connecticut; Maine Water Company in Maine; and SJWTX, Inc. (dba Canyon Lake Water Service Company) in Texas. To learn more about San Jose Water, visit: sjwater.com.
Please follow us on Facebook, Instagram and Twitter for the latest company news.
Forward-Looking Statements
This release contains forward-looking statements within the meaning of the Private Securities Litigation Reform Act of 1995, as amended.  Such forward-looking statements include, but are not limited to, statements regarding the benefits of protecting watersheds, the ability to reduce wildfire and other statements using forwarding looking words such as "believes," "expects," "may," "will," "should," "seeks," "approximately," "intends," "plans," "estimates," "projects," "strategy," or "anticipates," or the negative of those words or other comparable terminology.
These forward-looking statements are only predictions and are subject to risks, uncertainties, and assumptions that are difficult to predict. The accuracy of such statements is subject to a number of risks, uncertainties and assumptions including, but not limited to, the following factors: (1) the effect of water, utility, environmental and other governmental policies and regulations, including actions concerning rates, authorized return on equity, authorized capital structures, capital expenditures and other decisions; (2) changes in demand for water and other services; (3) the impact of the COVID-19 pandemic on our business operation and financial results; (4) unanticipated weather conditions and changes in seasonality, including those affecting water supply and customer usage; (5) climate change and the effects thereof; (6) unexpected costs, charges or expenses; (7) our ability to successfully evaluate investments in new business and growth initiatives; (8) contamination of our water supplies and damage of failure of our water equipment and infrastructure; (9) the risk of work stoppages, strikes and other labor-related actions; (10) catastrophic events such as fires, earthquakes, explosions, floods, ice storms, tornadoes, hurricanes, terrorist acts, physical attacks, cyber-attacks, or other similar occurrences; (11) changes in general economic, political, business and financial market conditions; (12) the ability to obtain financing on favorable terms, which can be affected by various factors, including credit ratings, changes in interest rates, compliance with regulatory requirements, compliance with the terms and conditions of our outstanding indebtedness, and general stock and debt market conditions; and (13) legislative and general market and economic developments.
In addition, actual results are subject to other risks and uncertainties that relate more broadly to our overall business, including those more fully described in SJW Group's filings with the SEC, including the most recent reports on Form 10-K, Form 10-Q and Form 8-K. Forward-looking statements are not guarantees of performance, and speak only as of the date made, and we undertake no obligation to update or revise any forward-looking statements except as required by law.
Contacts
Media
Liann Walborsky
Director of Corporate Communications
408-918-7247, Liann.Walborsky@sjwater.com