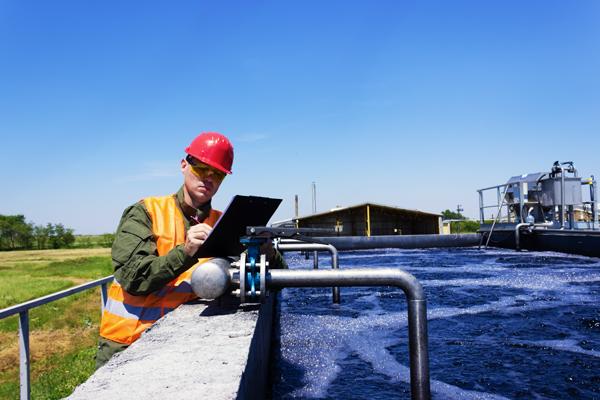 Reducing Water Waste with Recycled Water
As recent droughts have made abundantly clear, water is a finite resource. It's important for water providers like San Jose Water (SJW) to do all they can to help the areas they serve get the most out of the water there is. That includes teaming with industry organizations to recycle wastewater, treat and disinfect it for use in irrigation and other non-potable applications, and save unrecycled water for potable uses. This pursuit has led SJW to team with the South Bay Water Recycling program (SWBR), an initiative designed to provide a sustainable, high-quality water supply and reduce the region's dependence on imported water.
 
The South Bay Water Recycling program, administered by the City of San Jose, provides sustainable, high-quality water to more than 750 customers. The program is part of San Jose's goal to recycle or beneficially reuse 100% of its wastewater — 100 million gallons per day — by 2022. This wastewater initiative is one of the goals that form San Jose's Green Vision, which comprises 10 aggressive goals to create a fully sustainable city in the next decade. 
The program, already robust, is still growing. Today, SBWR boasts more than 140 miles of pipeline, five pump stations and three above-ground storage reservoirs, with a combined storage capacity of 9.5 million gallons. It produces an average of 110 million gallons per day of high-quality, tertiary-treated water, and more than 40 billion gallons of such water have been produced by the program since its inception in 1998. That's the equivalent of total water use from more than 217,000 homes in one year, which means a drastic increase in the longevity of our water supply.
While recycled water is not intended for drinking water applications, it significantly boosts our potable water supply by taking its place in other areas, such as irrigation in public parks. Every drop of recycled water used for irrigation purposes stretches the area's supply of potable water even farther.  However, just because this recycled water isn't rated potable, that doesn't mean it isn't clean. Title 22 of the California Code of Regulations empowers the Regional Water Quality Control Board to regulate and monitor safe use of recycled water. The board works to ensure recycled water that comes into contact with the public meets bacteriological cleanliness standards. This helps make sure that water in SJW's service area is both sustainable and safe for a long time.
The same Quality Control Board reviews building plans to ensure that recycled water and drinking water pipes and systems do not mix. For instance, commercial and municipal buildings can use recycled water for toilet and urinal flushing, but only in dual-plumbed environments that keep those water systems separate. This further broadens the possibilities for how recycled water can be used, which in turn grows the sustainability of our water supply.
All of those millions of gallons of reusable water — again, 217,000 homes' worth and growing — add up to a longer, brighter future for our drinking water. You can find out more about how SJW is working to keep water affordable, sustainable and safe here.