Image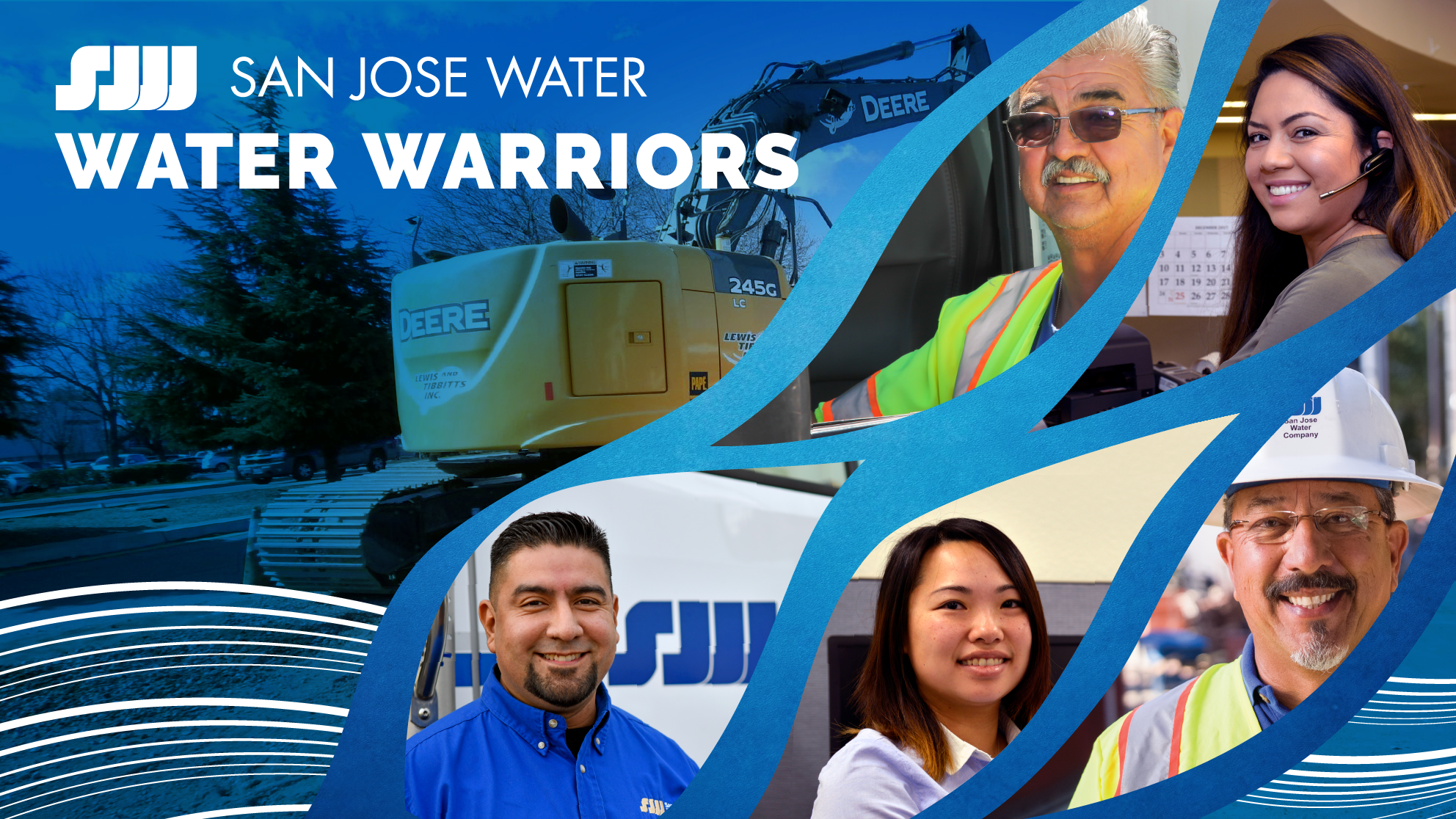 SJW Water Warriors: Keeping Your Water Flowing
What does it take to keep your water flowing? Our hard-working employees are the key to delivering this vital resource safely through our extensive distribution system. Through our Water Warriors employee features, we celebrate these dedicated employees and their service to our community.
Read on and watch the videos below for an inside look at these Water Warriors in action. Learn more about what it takes to complete the crucial work that we all depend on - from source to tap.
ROBERT E.
As the Senior Control Systems Planner, maintaining reliability is key to Robert Estrada's role at SJW. During tank replacements, he oversees the installation of important communication systems that not only ensure temporary tanks fill (and stop filling) when they're supposed to, but also help to maintain and monitor seismic stability and water quality. 
Thank you, Robert, for your dedication to maintaining a reliable water system!
MIGUEL S.
Born and raised in San Jose, Miguel has always had a deep appreciation for his community. Miguel joined San Jose Water as a service inspector 13 years ago, and today his primary goal is to continue working on the front lines to ensure a healthy and reliable water supply for the residents of the San Jose area.
During his time with SJW, Miguel has constantly used  his expertise in the water industry and worked with his team to find smart solutions to challenges that arise. One such challenge emerged while participating in the Advanced Metering Infrastructure (AMI) program. Miguel says with pride, "I was involved in our pilot AMI program, where I installed new meters that use innovative technology in Willow Glen. We had to install a great number of meters in the peak of summer and keep the inconvenience of the neighborhood at a minimum." Collaborating with inspiring people to deliver safe water to his community  has given Miguel a better understanding of how important water is, as it touches everything in our lives.
As a Water Warrior, Miguel strongly emphasizes the value of water, "It is important because it supports my family, and I will always have a connection to it beyond my work at SJW."
Thank you for being a true Water Warrior, Miguel!
KRISTAL C.
Kristal, customer service representative at San Jose Water, Water Warrior, and mother of one, is proud of the footprint she makes in the lives of others. Kristal joined SJW 19 months ago with a goal to provide the best customer service possible, and to continue learning and growing throughout her time here. She states, "Every day, taking an abundance of calls and being able to answer any questions or concerns our customers may have is a very rewarding feeling."

Kristal explains one of the ways she helps address the questions and concerns from our customers: "I advise customers about the length of time before an answer can be given and I also offer to assist them with verifying if their meter may be experiencing water loss."
Kristal has also gained a broader perspective on how vital it is to be able to turn on her faucet and receive a clean and safe supply of water. "Water is essential to everything we do, from the water we need to brush our teeth and make coffee in the morning, to the water farmers need to grow crops, and firefighters need to keep us safe."
As an advocate for high-quality and reliable water, she articulated her personal values, "Water is important to me because it is essential for human health and the environment. It's important that I know my loved ones are in a safe environment and most importantly that I trust the company who I work for to provide clean water "
Keep up the amazing work, Kristal!
CHRISTINA C. 
Christina is an engineer at San Jose Water and has been working in that role for two years. While she originally moved to San Jose to pursue a Master's degree, she decided to stay in the area to put her education to work for the benefit of her community. After living in San Jose for five years and working at San Jose Water for two, she says her co-workers have become more like family and she feels a strong sense of pride in her community.
Christina loves seeing the work she does designing water infrastructure put into action in her community. "I always enjoy passing by areas where I have created the design for pipeline replacements. It's satisfying to know that I have positively affected someone's life by helping improve their water service."
Christina enjoys working at San Jose Water because the value she places on serving the community is shared with the company she works for: "Whether it's providing water in the most beneficial manner or helping the community through programs like Martha's Kitchen or the Community Fund, SJ Water always holds an emphasis on the community." Because Christina works and lives in San Jose, providing safe, high quality water to residents in the area is that much more important to her. "It means a lot to me that I am living in the community that I am serving."
Thank you, Christina, for being an amazing Water Warrior and an awesome neighbor.
If you enjoyed meeting our Water Warriors, you might also be interested in…