Image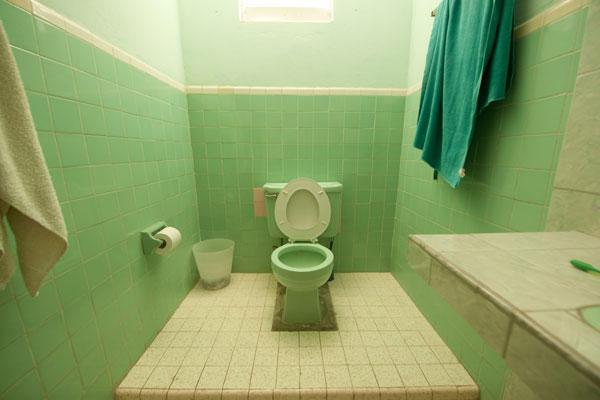 What Features Should a Stylish, Water-Efficient Bathroom Include?
With the high cost of a complete bathroom remodel averaging $9,825 and sometimes soaring to more than $20,000, according to Home Advisor, undergoing a massive construction project isn't in everyone's budget. But there are ways to save water while updating your bathroom to help make it more water-efficient. Replacing existing fixtures with new water-efficient toilets, showerheads and faucets can make your bathroom both beautiful and water-efficient.
Flush efficiently with water-wise toilets
If your toilet was made before 1992, consider replacing the outdated fixture with one of the new and improved models on the market today. Those old toilets, sometimes made in light blue and pink to match other fixtures in the bathroom, used between 3 and 7 gallons per flush.
In 1992, toilets were upgraded to use just 1.6 gallons per flush. That was a big water-savings improvement, but there were downsides. Many customers complained that these ultra-low-flush (ULF) toilets did not operate efficiently and required double flushing to get things done. And you're definitely not saving water if you have to flush twice!
Manufacturers heard the complaints and went back to the drawing board. The next evolution of toilets featured advanced water savings and the strength to meet homeowners' needs. These upgraded fixtures are called high-efficiency toilets (HETs) and are highly effective. These toilets come in many different stylish designs, according to the U.S. Environmental Protection Agency (EPA).
If you replace your old, inefficient toilet with an HET unit, you could save nearly 13,000 gallons of water each year. The new premium toilets use 1.1 gallons of water per flush and there are numerous models on the market that can be found at local hardware stores.
Don't forget to dispose of your old toilet properly. There are several locations in Santa Clara Valley that will recycle or dispose of your old toilets.
Shower with high-efficiency showerheads
The old days of using a "water saving" showerhead and spending twice as long under the dribbling showerhead trying to rinse shampoo out of your hair are long gone. Using new technology that uses less water but provides great pressure and a feeling of being enveloped in water spray has revolutionized the shower experience while saving water.
New, more efficient showerheads use less than 2.0 gallons per minute compared with standard showerheads, which use 2.5 gallons of water per minute, according to the EPA. Available in many styles to meet your design preferences, a high-efficiency showerhead can save water without interrupting the look and feel of your bathroom oasis. The average family could save up to 2,900 gallons of water by using a high-efficiency showerhead. 
Look for water-saving showerheads that earn the WaterSense label, which ensures that these products offer a shower that is equal to or better than conventional showerheads available on the market. Water coverage and spray intensity are part of the performance criteria for all WaterSense showerheads.
The WaterSense label, created by the EPA, will help you identify efficient fixtures. The WaterSense rating ensures that the product has been certified to be at least 20% more efficient than other models without sacrificing performance.
Wash your hands with a water-wise faucet and faucet aerator
A new sink faucet can instantly change the look of your bathroom. In addition to freshening up your design, your new faucet can help save water. By using a WaterSense-labeled faucet, you can use just 1.5 gallons of water per minute, down from the standard flow of 2.2 gallons of water per minute. You save water without sacrificing performance.
Less expensive than a faucet are wonderful water-saving devices: aerators. Standard aerators use 2.2 gallons per minute, according to the EPA. By changing out your aerator to a 1.5-gallon-per-minute model, you can use 32% less water. This adds up over time and contributes to the water conservation efforts that dominate life in California.
Using a WaterSense-labeled aerator (which creates a no-splashing stream) and faucet could save a household 11,000 gallons over the life of the faucet
Looking to learn more about saving water and benefiting your home in a variety of ways? Like San Jose Water's Facebook page to stay up-to-date with the latest water-wise advice. Find us here.