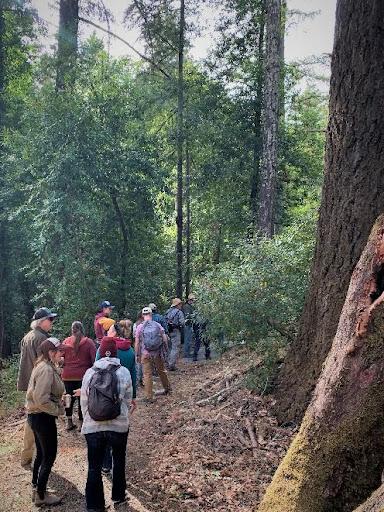 The Santa Cruz Mountains is where water and fire often converge when talking about environmental stewardship. How can we make this beautiful area more fire resistant while embracing the water infrastructure vital to so many residents?
  On Friday, October 28, 2022, San Jose Water (SJW) hosted a cohort of regional stewardship practitioners, policy makers and thought leaders — all working at the intersection of environmental management, science and policy. This important event was part of the Santa Cruz Mountain Stewardship Network's six-part Spotlight series. Along with SJW partners, and collaborators from the Santa Clara County FireSafe Council and Auten Resource Consulting, SJW co-facilitated a rich conversation covering the important connections between stewardship and water resources management.
The group was introduced to SJW's six core stewardship initiatives:
watershed management
climate change
environmental water
wildfire mitigation
forest health
ecosystem restoration
These core initiatives are strongly linked to SJW's mission-driven programs and investments, which include the company's larger organizational Environmental, Social and Governance (ESG) objectives, and commitments to high-quality and sustainable water for local communities.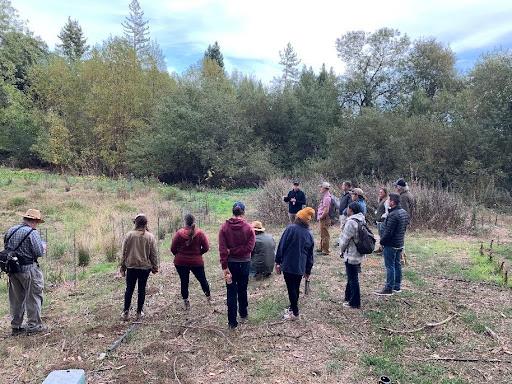 Throughout the day-long tour, participants had a chance to see SJW's Lake Elsman, a key source of water in the Santa Cruz Mountains. Visits to several environmental mitigation sights allowed an up-close look at new and restored sites that SJW has created to reduce the impact of infrastructure projects in this environmentally sensitive area. A view of the changes in the former town of Wrights, highlighted the environmental changes since the town's railroad station stopped service in 1940.  Hikes in the watershed followed by an overview of our Montevina Water Treatment Plan showed the flow of water infrastructure from start to finish in the mountains.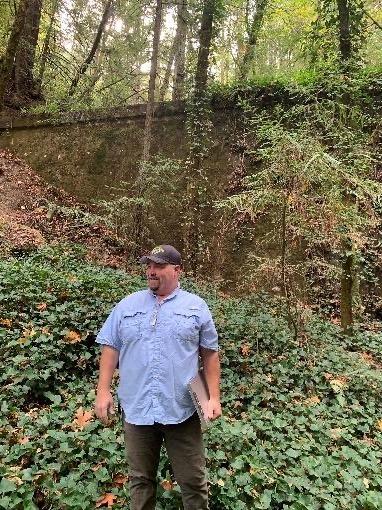 SJW is proud to work collaboratively with many community programs which help to protect the environment. In 2021, The Los Gatos Creek Watershed Collaborative was a recipient of a $7.5 million CAL FIRE Forest Health Grant. SJW along with the Santa Clara County FireSafe Council, Midpeninsula Regional Open Space District, Santa Clara County Parks and Auten Resource Consultants formed a collaborative that focuses on protecting the Los Gatos Creek Watershed.
This event marks the 4th year of the Santa Cruz Mountains Stewardship Network Spotlight Stewardship program. Spotlight Stewardship is a course that invites community leaders on to the land to learn more about the often complex and challenging practice of stewardship, along with opportunities to support and expand these practices more broadly. Topics include wildfires, forest health, habitat preservation, water, ecological restoration, land acquisition, Native stewardship, public access, working lands, research, and collaboration between organizations and private landowners.
Participants attend day-long tours led by experts in the field from State Parks, the Amah Mutsun Land Trust, San Mateo Resource Conservation District, Peninsula Open Space Trust, Resource Conservation District of Santa Cruz County, Sempervirens Fund, San Mateo County Parks, Land Trust of Santa Cruz County, Save the Redwoods League, Swanton Pacific Ranch, and San Jose Water.
The Santa Cruz Mountains Stewardship Network comprises 24 organizations who own, manage and steward land in the Santa Cruz Mountains. The Network is a vehicle for member organizations to collaborate on issues that cross both jurisdictional and property lines: www.scmsn.net.
Image

Image

Image

Image

Andy Gere, SJW President and COO, Colby Sneed, SJW Director of Operations, Seth Schalet, Santa Clara County FireSafe Council, and Jared Lewis, Manager of Environmental Planning and Natural Resources, speak to the Santa Cruz Mountain Stewardship Network team.