Image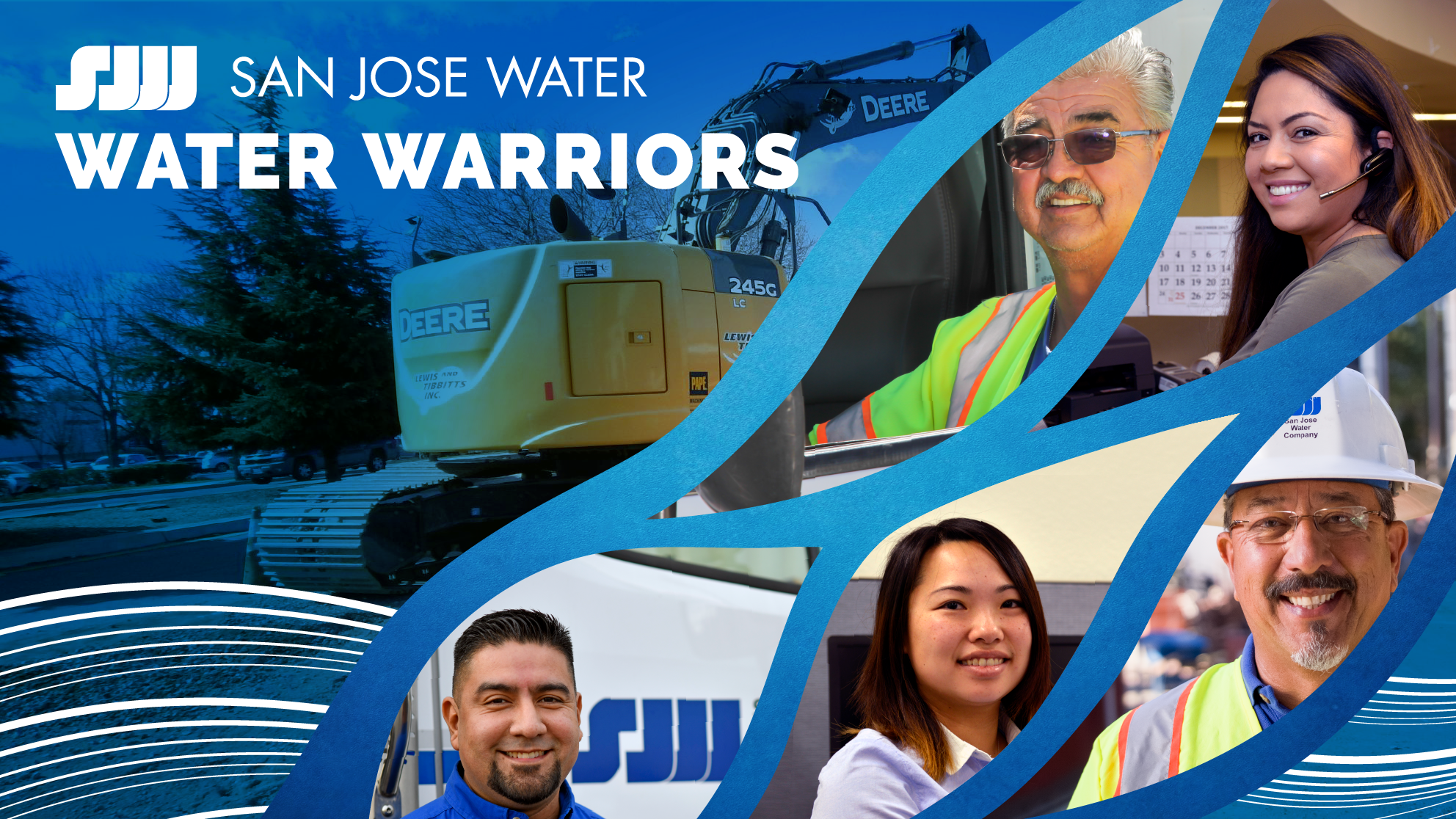 Keeping Santa Clara County Water Flowing; San Jose Water Shares the Stories of its Water Warriors
Water is a vital resource we all depend on, but behind the scenes hundreds of water quality experts, inspectors, engineers and professionals keep the taps flowing.
SAN JOSE, CA. - May. 1, 2018 - San Jose Water is focusing on the people that make it possible to safely and reliably deliver its high-quality water to customers 365 days a year as part of Water Awareness Month.
As summer approaches - typically the highest usage water months - it's even more important to take a step back and think about the water we rely on, how we can help conserve it, and what it takes to deliver it every day.
While water is often referred to as "invisible infrastructure" because most of the pipes, pumps and tanks are out of sight, the most visible and important parts of delivering water to our customers is done by SJW's men and women.
Miguel S., a field service inspector, and Kristal C., a customer service representative, are part of SJW's front line that ensure water is flowing whenever one of the more than 1 million residents we serve turns on the taps. As part of our #WaterWarriors campaign we are sharing their stories to help stimulate a dialogue with our community about the investment San Jose Water is making to ensure our customers enjoy a safe, modern, reliable water system. To learn more about our Water Warriors visit www.sjwater.com/waterwarriors.
"San Jose Water customers have some of the most dedicated men and women, working hard every day to deliver their water, who I've ever met," said Eric W. Thornburg, San Jose Water's Chief Executive Officer. "I'm thrilled that this year for Water Awareness Month we will be sharing their stories and reaching out to our community to have a conversation about how we continue to deliver safe, high-quality water for generations to come."
Water infrastructure investment is a critical component of SJW's planning effort to ensure the long-term reliability of its system. In the last decade, the company has investment 1 billion dollars in the communities it serves to modernize its aging 150-year old system. While those investments have led to rate increases, water continues to be the best value for an "always on" service at about a penny per gallon. The typical San Jose Water customer uses between 250 and 375 gallons of water per day.
A reliable water system goes well beyond the ability to turn on your tap day or night. Water providers are also responsible for ensuring the system is reliable so that in the event of a fire or natural disaster its tanks and reservoirs stand ready for emergency responders and fire fighters to tap into to help protect the community. To enhance the resiliency of its system, SJW is investing in seismic upgrades for its aging tanks and reservoirs to ensure they can survive the next big earthquake. To learn more about our investments in our region's water infrastructure visit www.sjwater.com/our-company/system-improvements.
About SJW Group                                                                 
SJW Group is a publicly traded holding company headquartered in San Jose, California. SJW Group is the parent company of San Jose Water, SJWTX, Inc. and SJW Land Company. Together, San Jose Water and SJWTX, Inc. provide water service to more than one million people in San Jose, California and nearby communities and in Canyon Lake, Texas and the nearby communities. SJW Land Company owns and operates commercial real estate investments.