Image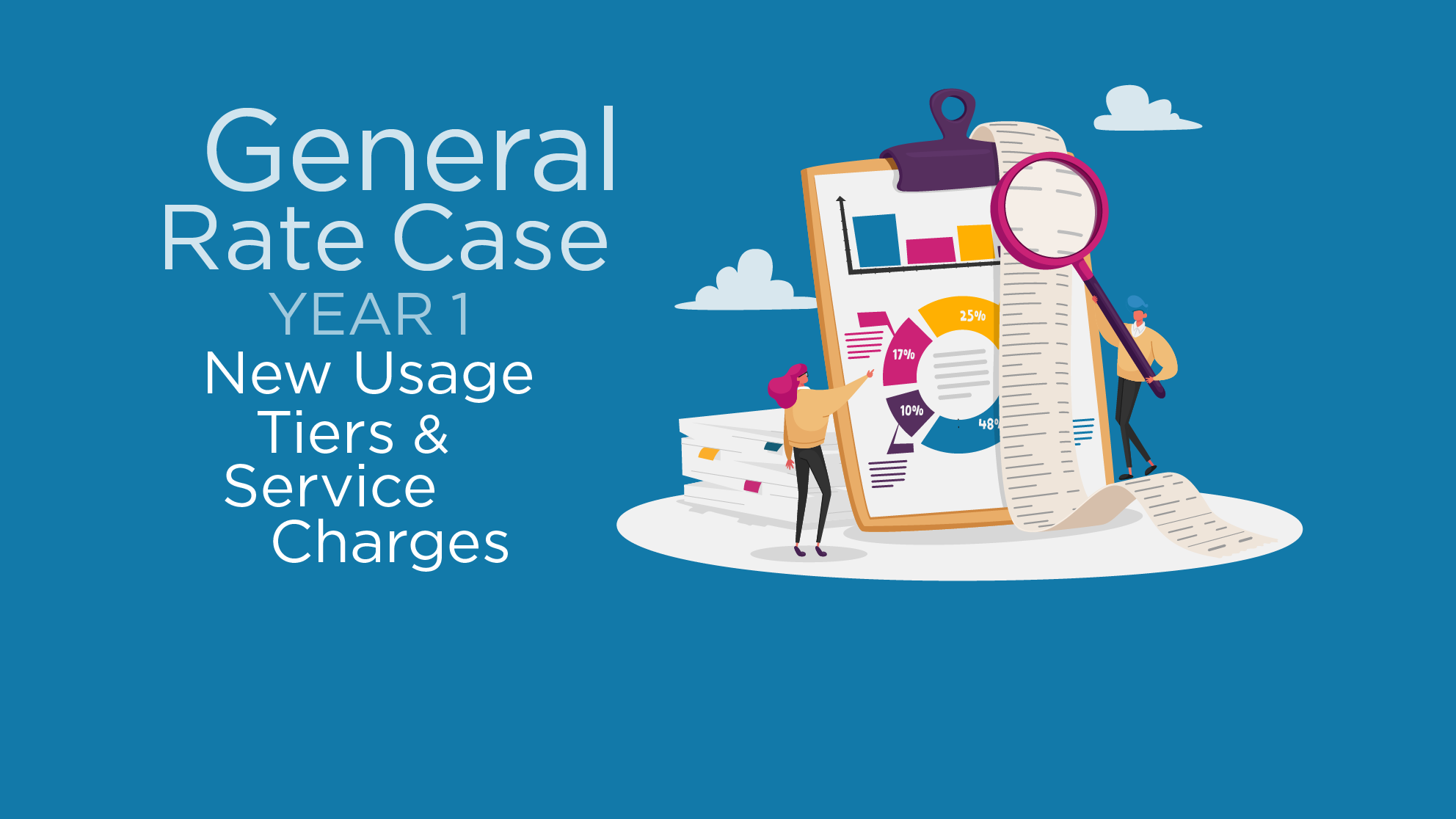 General Rate Case 2022- Year 1
GRC Rate Increases
We understand that no one likes rate increases. But, they are critical to keeping reliable, high quality water flowing – now and into the future. Let's take a closer look at the General Rate Case for 2022-2024.
On October 6, 2022, the California Public Utilities Commission (CPUC) approved SJW's General Rate Case (GRC) covering the years 2022-2024. To cover the cost of providing high quality and reliable water service, the CPUC approved a revenue increase of 6.03% for 2022. Rates and revenues for 2023 and 2024 will subsequently be determined based on authorized utility plant investments and the forecasted change in the consumer price index from the preceding year. Your bill may not reflect this exact percentage.
Importantly, this GRC decision includes a three-year capital budget of $350 million to cover infrastructure improvements needed to maintain a resilient system for customers – now and into the future. Continued investments in our water system is critical to protecting public health, supporting economic development, and delivering a high quality of life for our customers and communities. Recent headlines from around the US show that lack of investment in water infrastructure can lead to significant issues.
New usage tiers and service charges
Residential customers are charged different rates for water depending on their usage levels. The new rate tiers have expanded the lower use tiers with lower rates. Tiers 1 and 2 (for residential customers using less than 12 CCFs per month) will see LOWER rates while Tier 3, those using more than 12 CCFs or units of water per month, will see HIGHER rates. This helps promote conservation by encouraging lower water use. One CCF = 100 cubic feet = 748 gallons of water.
Image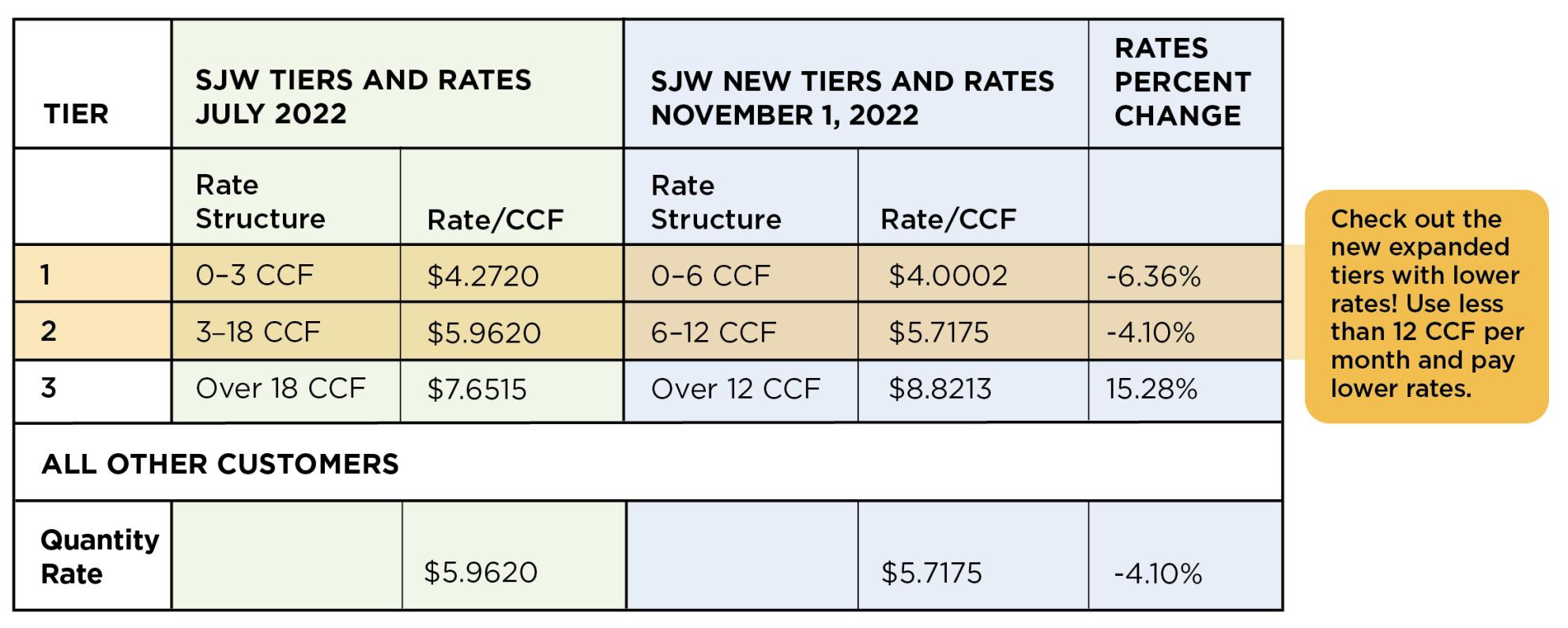 Service Charges per Meter per Month (All rates will be available on our billing schedules page.)
Image

The service charge is designed to recover a portion of the company's authorized revenue. The new rates reflect 55% revenue recovery from quantity charge and 45% revenue recovery from the service charge. In the past, the ratio was 60%/40%.
Impact of delayed CPUC decision
SJW filed the GRC application in January 2021 for the years 2022 (Year 1), 2023 (Year 2), and 2024 (Year 3). No decision on the application was received until October 6, 2022, well into Year 1 of the three-year rate case. Typically, the CPUC decision is received prior to January 1 of Year 1 so rates can be implemented immediately for that year.
Due to the delay, there will be multiple rate changes over a short-period of time. SJW will file in November to implement the Year 2 increase effective January 1, 2023.
How will this affect my bill?
Effective November 1, 2022, new rates will go into effect and cover the following CPUC-approved increases.
Service Charge – based on meter size
Quantity Charge – based on water used
Balancing Accounts Surcharge
Memorandum Accounts Surcharge
Effective a few weeks later, the Interim Rates surcharge approved by the CPUC will go into effect. This surcharge is designed to recover revenue retroactive to January 1, 2022, and is anticipated to be approximately $3 per month.
For a typical residential customer using 11 CCF of water with a 3/4-inch meter, their monthly bill will increase by a little more than $1 or 1% as shown below.  
Image

These amounts include utility taxes, which are only applicable to customers in San Jose, and the CPUC fee which are applicable to all customers. If your consumption is more or less than 11 CCF, the monthly bill will be different. 
Please note that bills dated November 1, 2022 and thereafter will include the new rates without proration. Due to the delay, these rates are retroactively effective to January 1, 2022 and thus can be applied immediately. Any consumption billed prior to November 1 at the old rates will be recalculated and captured in the Interim Rates surcharge. As such, prorating the bill is not necessary. Furthermore, proration would result in a very confusing bill due to the changes in rates and rate tiers. New billing schedules will be available online for your reference.   
In addition, new rates for Year 2 will be effective Jan. 1, 2023.
FAQS
What's the purpose of the General Rate Case (GRC) revenue increase?
This increase is necessary for SJW to continue providing safe and reliable water service.
Rate increases:
Ensure that our water system is sufficiently designed, operated, and financed to provide safe and reliable service to all customers; and
Address emerging trends and threats, including wildfire and climate change, and help build and operate a more resilient system.
What is the Interim Surcharge?
This surcharge is a temporary rate increase anticipated to last 24 months. Ordinarily, you would have been charged the new rate beginning January 1, 2022. Because of the CPUC delay, this is beginning November 1 instead. The surcharge is a way to "make up" the 10 months of not having an increase. 
What is SJW doing with the rate increase monies?
Providing safe, reliable water service requires significant infrastructure upgrades to a system that has been in operation since 1866. SJW has a strong history of investing in its storage tanks, pipes, treatment plants, water quality technology and other infrastructure. Deferring investment in these areas would only increase costs over time due to system failures. SJW invests over $100 million per year to maintain our system so we can serve more than one million people in our community. Learn more about our infrastructure projects at www.sjwater.com/infrastructure.
Does this GRC decision meet the CPUC's Environmental and Social Justice directives?
Importantly, the final decision recognized SJW's efforts towards environmental and social justice (ESJ) goals adopted in the CPUC's February 2019 Environmental and Social Justice Action Plan. Specifically, it acknowledged our efforts to serve all customers including many who are part of ESJ communities through the:
Reduction of greenhouse gas emissions through the accelerated electrification of our fleet, green energy generation, and continued optimization of our energy reduction program;
Replacement of lead service lines;
Fluoridation of a portion of our groundwater supply serving the most vulnerable populations;
Investments to improve water quality; and,
Mitigation of the wildland fuel hazard through our Wildfire Mitigation Plan.
How often is a General Rate Case (GRC)?
SJW is regulated by the California Public Utilities Commission (CPUC). Every three years, SJW goes through the General Rate Case (GRC) process. During this, the CPUC hands down a decision about rates for the following three years. Learn more about the GRC process here.
Why such a big increase in Year 1 of the three-year rate decision?
CPUC adopted a three-year rate cycle for Class A Water Utilities.  Class A Water Utilities like SJWC can only go in every 3 years in the form of General Rate Case filing to update expenses and capital improvement forecast.  The CPUC has set rules and guideline on how to conduct such forecasts.  In general, utilities can forecast or request additional expenses up to the Test Year (or Year 1) of the GRC cycle.  Years 2 and 3 are known as escalating years and are normally adjusted based on up to date factors approved by the CPUC. 
What if I am having trouble paying my bill?
We have a number of programs available to help:
Image

Image

Image

Payment plans can help avoid disconnection of your water service.
How will my new bill compare to my old one?
Your bill will reflect the new rates authorized by the California Public Utilities Commission. Since each customer has different usage patterns, meter sizes, and city tax requirements, it's not possible to provide an example for every customer.
However, the average residential customer uses 11 CCF of water per month and has a 3/4-inch meter. This is a comparison of the old and new rates for this customer. The increase is approximately $1 or 1%. Your situation may differ.
Image

Didn't you just raise rates in July 2022?
This increase was due to Valley Water. San Jose Water does not retain any of the money.  SJW pays Valley Water when we purchase imported water from one of VW's 3 water treatment plants, or when we pump groundwater from our wells. This is what we call a pass-through charge. See more at: https://www.sjwater.com/valley-water-rate-increase-july-1-2022
What are balancing and memorandum accounts?
The CPUC allows certain types of expenses to be tracked outside of the GRC expense forecast process.  These expenses are normally unusual expenses that are not foreseeable when the GRC forecast was conducted.  SJW has to receive authorization to track and amortize these expenses.  The balancing and memorandum account amount in the GRC is a combination of many such accounts/expenses approved by the CPUC.  Therefore in every GRC, the CPUC allows the company to combine all the balancing and memorandum accounts together and amortize them all at once to keep accounts up to date. 
---