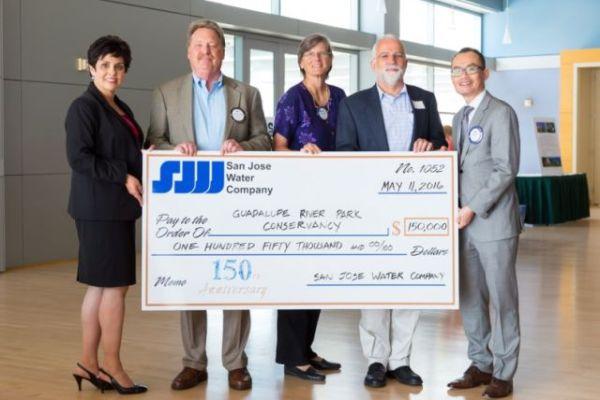 SJW's 150th Anniversary - Giving Back to the Community
SJW maintains a long history of supporting the community in which we live, work and serve.  We believe that "there can be no company without community" and in recognition of our 150th anniversary and of the community that has been central to our existence, the Company is making a special contribution to the Guadalupe River Park Conservancy to significantly expand the Rotary Children's Sculpture Walk.
Former San Jose Rotary Club President, Shirley Lewis, is the inspiration behind the Children's' Sculpture Walk.  Currently there are two installations in the Guadalupe River Park.  This fall, two new cast-aluminum sculptures will be added and four additional pieces will be added in 2017 bringing the total to eight installations upon completion.
This partnership extends well beyond San Jose Rotary and the Guadalupe River Park Conservancy and also includes San Jose State University's Foundry Program to design and manufacture the sculptures.  Engaging San Jose State's Foundry brings SJW full circle as the Company began operations with two water tanks at the original location of the San Jose Foundry back in 1866.
To celebrate the community in which we live, two local elementary schools were chosen to be part of the project team!  The design inspirations for the 2017 sculptures come from students at Washington Elementary School and Hacienda Science Magnet School.  The "Children at Play" theme winners include scooters and skateboards, soccer, bug watching and dog walking!
The project is well underway and we are excited to see it to completion.  An unveiling ceremony will take place this fall and more information will follow.
We look forward to serving the community for the next 150 years!