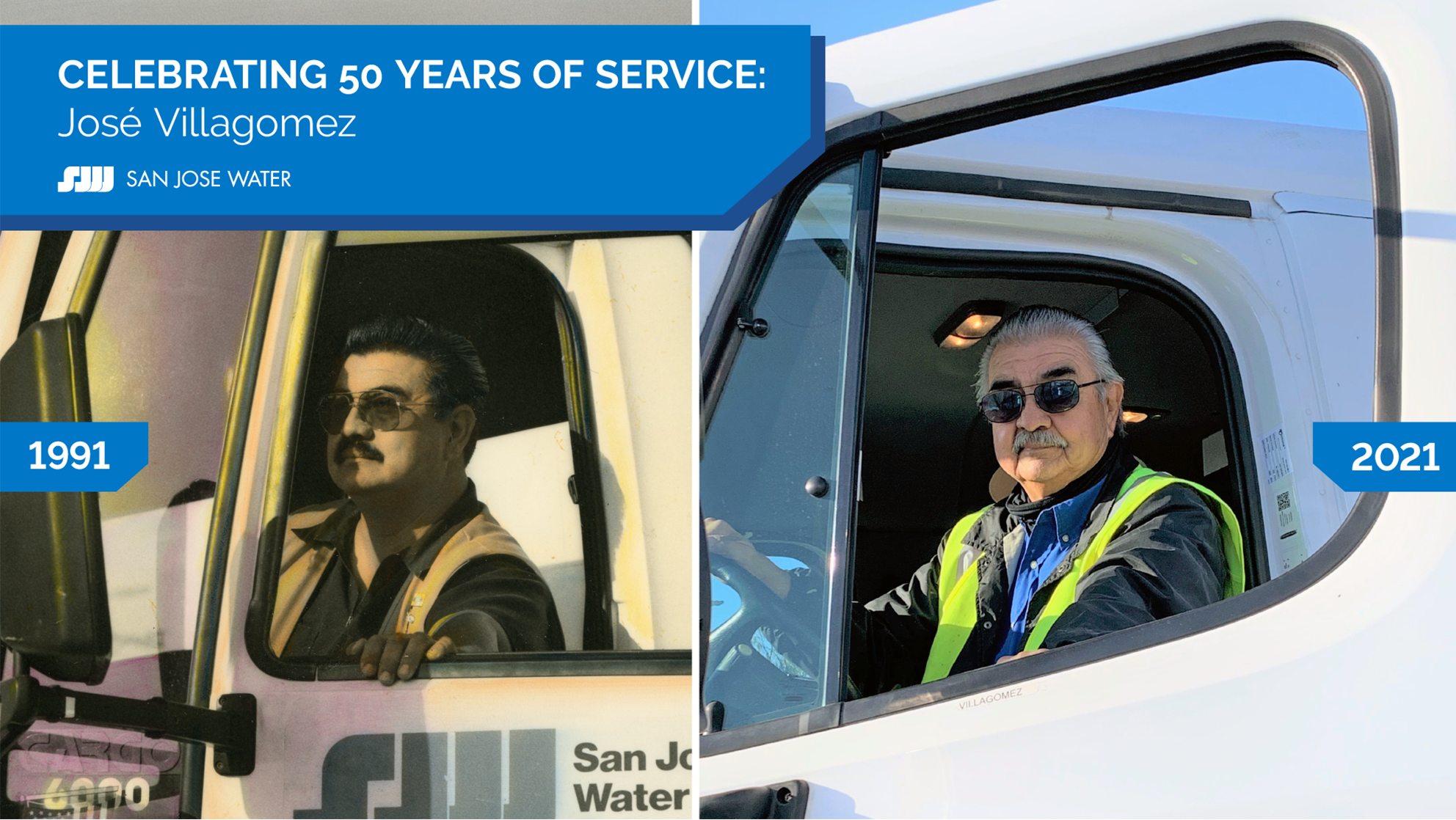 Celebrating 50 Years of Service: José "Joe" Villagomez
On March 2, 2021, José "Joe" Villagomez celebrated 50 years of service at San Jose Water (SJW). As a Crewleader A in the Distribution Systems (DS) Department, Joe leads a crew of 3 every day to maintain the company's water mains, valves and hydrants.
In March 1971, Joe was down to his last few dollars. Just out of the service with a wife and newborn daughter, Joe knew he needed a job to support his young family. He pulled up to SJW's building on W. Santa Clara Street and filled out an application right before lunchtime. He was called back for an interview at 1 PM and hired at 3 PM!
Over the last 50 years, Joe has worked in several departments. Starting in the Maintenance Department (now called DS) followed by a 17-year stint as a Service Inspector, Joe returned to the DS Department and has been there ever since.
Read on for some of Joe's insights about the past 50 years:
Joe's Safety Philosophy

"At the end of the day, I want to make sure you leave here and go back to your family as you came in this morning. All in one piece. Healthy. I want you back here the next day."
First Job
His first leak was on Cox Avenue at the Cox Reservoir. Joe reminisced, "We dug it out by hand. Shovels all the way down. Shovel and bar. Today, we have big trucks and backhoes. That's a big part of the changes I've seen around here."
Weather Conditions
Summertime is the hottest time in the Valley. I've worked with my crews in the middle of Almaden Valley in the winter for a 3 AM leak. It was so cold that spray from the water hit the trees and froze! When you see the ice on the trees – it's cold! But the repair had to be done.  
Words of advice for new hires that join his crew
Keep your nose clean. Keep asking questions. If you don't know something, ask questions because that's the only way you are going to learn.
After all you have seen over the years, would anything surprise you?
Every day is a surprise. You never know what you are going to run into. I'm always learning. I'm learning from these new guys. Every once in a while, they come up with something and I didn't think about it that way. It's not one person teaching. There are three of us on that truck. When we get on that truck, we learn from each other.
Safety Changes
Safety has improved quite a bit. Many years ago, it was not uncommon for us to go into a hole without a harness or anything. Some places, we didn't even use ropes. If we were able to get a ladder close to you, that was our safety plan. But, if they could lower you into a hole on the bucket of a backhoe, you did what you had to do, and then they would pull you back out. Nowadays…. It's the shoring shield, shoring box in place, all the protocols in place, ladders. Engineering signed off. Everything is done in the safest way.
Future Employees
When a cute kid comes up to you with a cold drink on a hot day, you don't want to say no. He may someday be an employee here!
SJW is proud to have Joe as part of our team delivering safe and reliable water to customers. He has influenced so many people here with his steady hand, work ethic, and generous commitment to training new staff.