Villa-Jackson Main Replacement Project
San Jose Water (SJW) has maintained a long-standing tradition of providing a high quality and reliable water supply coupled with exceptional customer service.  To this end, we are continuously maintaining and improving our facilities to meet the needs of our customers and the community at large.  

While SJW understands that these disruptions are unwelcome, the replacement of the pipes (which date from 1920 to 1940) is necessary to ensure the reliability of the water system, and reduce unplanned leaks and discharges. We greatly appreciate your patience and understanding as our system and service is updated.

What does this project entail? 

As part of our ongoing commitment, we are replacing the transmission and distribution system infrastructure in your neighborhood.  The work will increase system reliability and improve fire protection by replacing seven hydrants, as well as installing seven additional fire hydrants.  Approximately 1,600 feet of 6, 8 and 16-inch diameter pipeline and 92 service lines from the new water main to the meter will also be replaced as part of the project.

Why was the project delayed? 

There have been some delays completing this project related to unplanned repair activities and related water service outage, the winter holidays, and inclement construction weather. SJW's contractor, Pacific Underground Construction, in accordance with the Town of Los Gatos encroachment permit, is recommencing installation activities

Where is it taking place? 

Construction activities will be taking place in several locations during the project on portions of Villa, Jackson, Alpine, Highland, and Main Street in Los Gatos. See map below: 
Image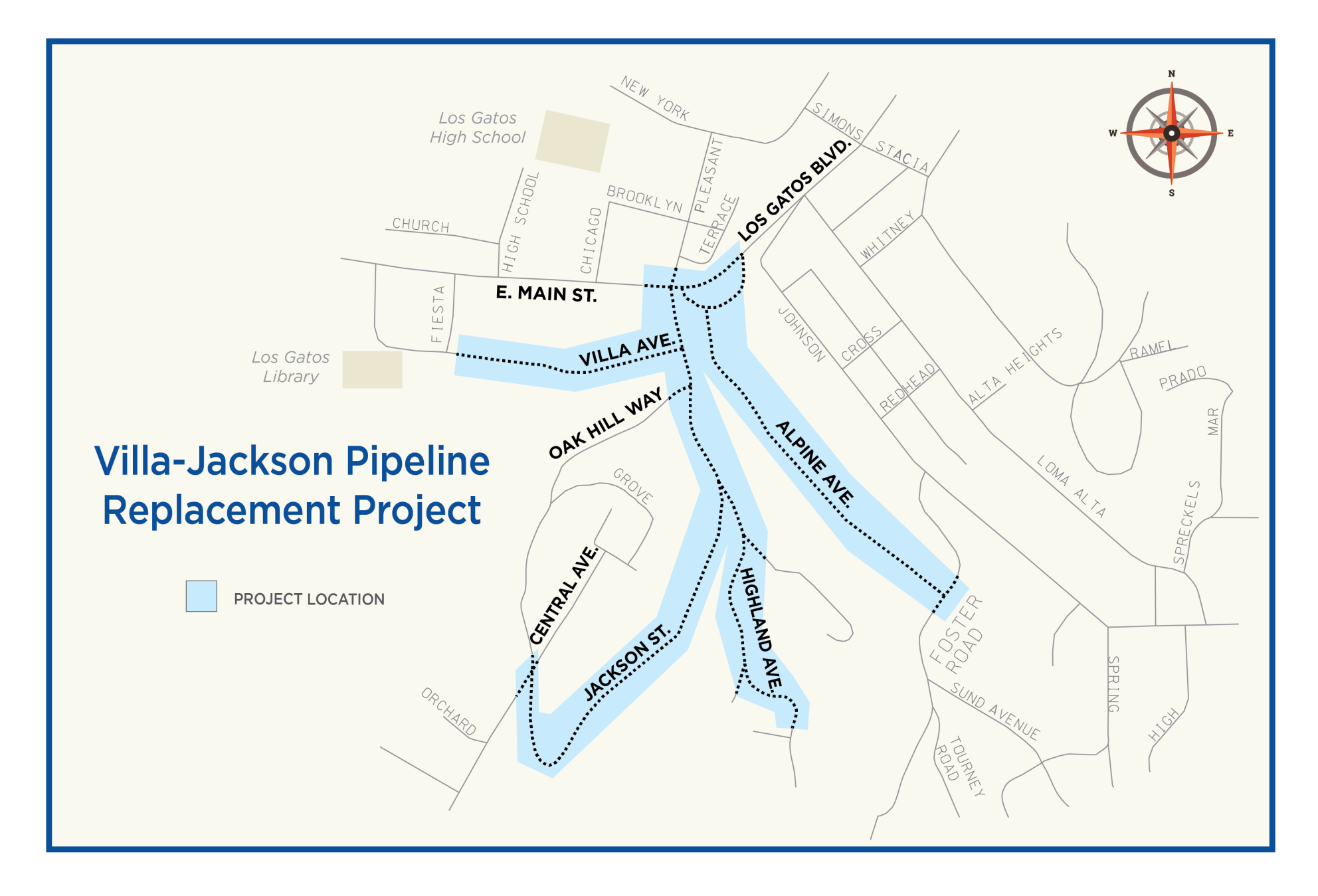 When is the project happening?

Construction is expected to resume on or about 1/30/2023 and is expected to last through the end of May 2023. 

What to expect
Each area of a street may encounter construction for differing periods of time dependent upon the work performed.  Progress may seem to stop for weeks or months, and resume at a later date due to the required phasing of construction to reduce the number of water supply interruptions.
Construction activities are weather dependent — meaning the estimated project duration may increase due to additional inclement weather.
Please allow extra time for trips, as traffic detours/ delays, and one-way traffic may be required.
Additional door hanger notification at least two days prior to any planned service interruption shall be provided.