While the entire community is under a shelter-in-place order, essential San Jose Water (SJW) workers are on the job to make sure your water is flowing safely and reliably.
Distribution Service (DS) Inspectors perform critical work day in and day out. Just a few of their responsibilities include marking existing water lines before any excavation begins, locating leaks in mains and service lines, performing hydrant and valve maintenance, and operating the vacuum excavator truck.
Image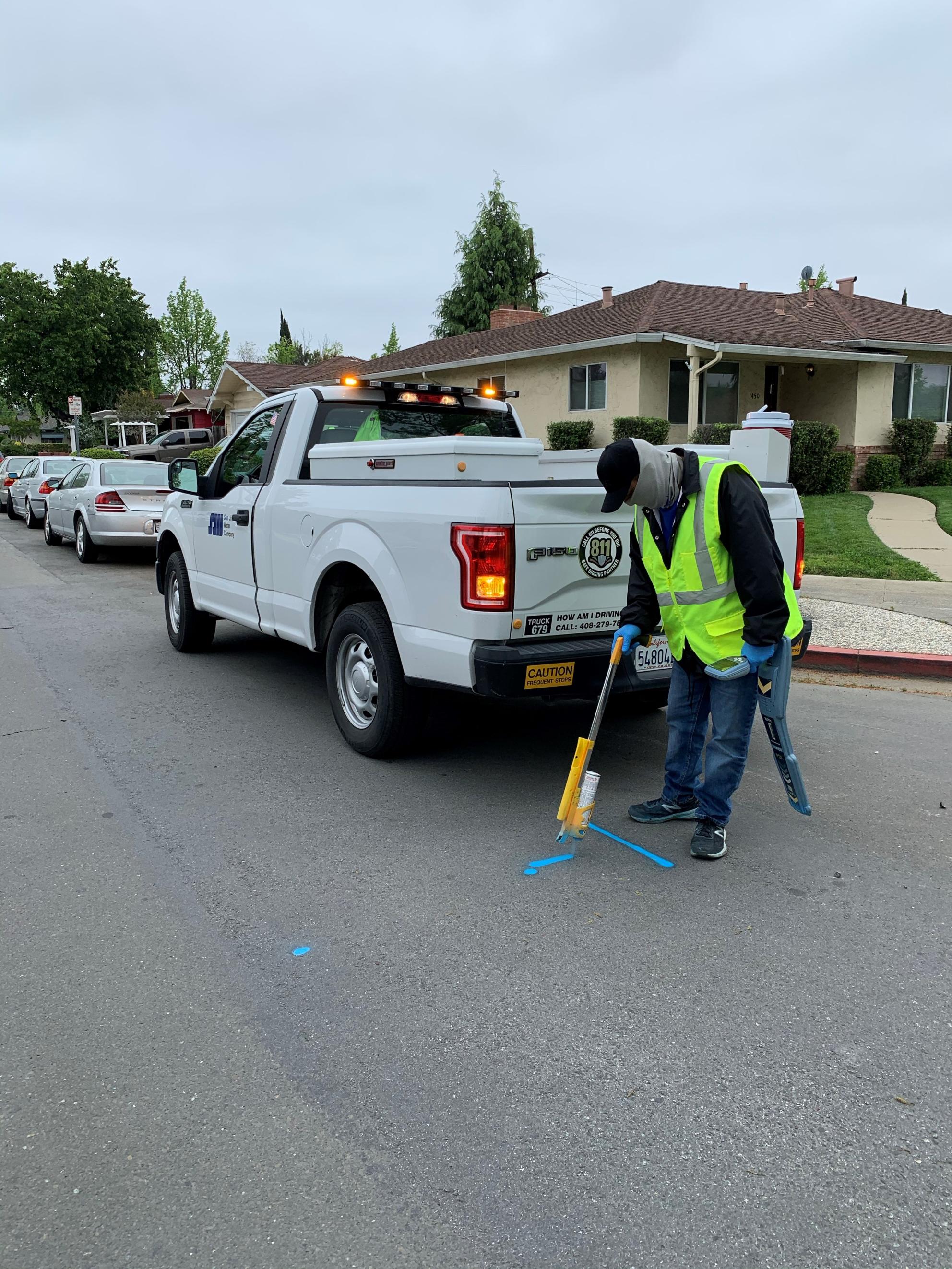 Collaboration is Key
Our DS Inspectors' job doesn't end there. Need to dig up a roadway to make an emergency pipe repair?  Contractor making sewer line improvements? Driver hits a light pole and repairs are needed?  It's our DS Inspectors who bring out the scoping equipment and blue marking paint so individuals, contractors, or fellow utilities can dig safely and avoid hitting a water main. If a pipe is hit, it could allow contaminants to enter the water supply.
Here's how it works. By law, all utilities must be marked before digging begins. In Northern California, all requests go through Underground Service Alert (USA) by dialing 811. SJW must respond within 48 hours and all markings are good for 28 calendar days.
In March 2020, our crews handled 696 jobs and painted 86,535 feet of markings. In addition, they worked on 36 sites and excavated 5,568 cubic feet of material.
Right Now, it Must be Essential
During COVID-19, SJW is focused on essential work only — ensuring that we are protecting public health and the safety of our employees. Hydrant and valve maintenance work has been temporarily stopped with staff attending to other essential duties.
When it comes to utility markings, some jobs are quite extensive. For example, a recent tag involved marking more than 3,000 feet, including paint on the ground for mains, service lines, hydrants, meters, and valves. Because many mains are on busy streets, traffic controls are often necessary. DS Inspectors will double up for these jobs to make sure all steps are taken to keep the road safe for drivers and pedestrians, while protecting the crew. All marking jobs must be done within 48 hours of being requested.
Doing The Job Differently
Image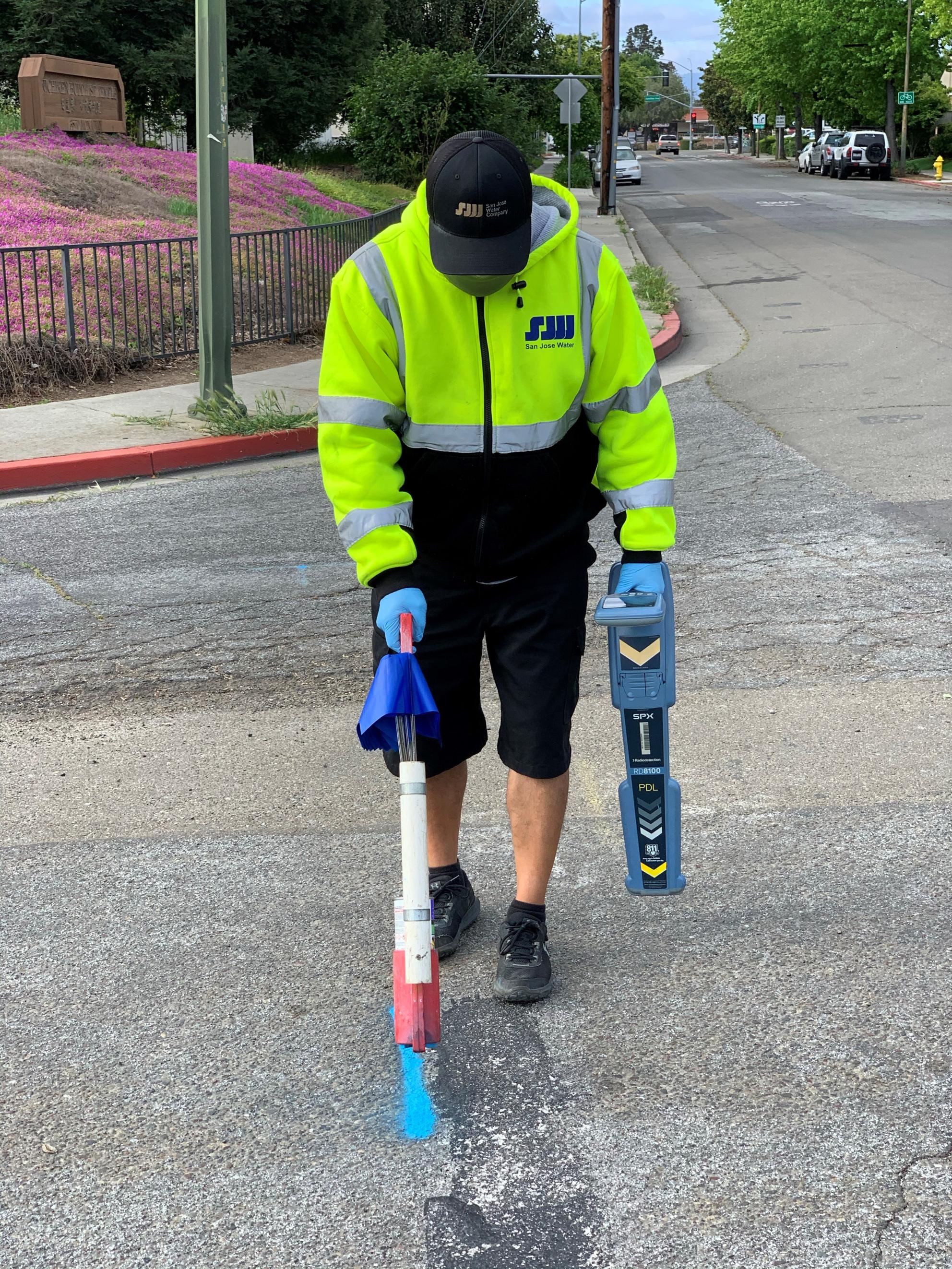 Mark Gutierrez, DS Inspector for 10 years, is adapting to this new way of working. To do his job in the current environment, he must wear all required Personal Protective Equipment (PPE). This includes a face covering and gloves when talking to customers.
Social distancing and PPE has changed his customer interactions. Says Gutierrez, "Normally, I'm a smile and shake-your-hand kind of person. Now, I stay 6' away from everyone. It's hard to see someone smile with a face mask and the voice can be a bit muffled. But everyone understands that we're all in this together."
For Gutierrez and his fellow inspectors Damon Rodriguez, Tony Jimenez, Jeremiah Roma, and Antonio Paniagua, even the simplest of tasks has changed significantly in the era of COVID-19. For example, restocking trucks with needed supplies. In the past, employees picked up their own supplies in the Corporation Yard. Now, they drive by and drop off a list of needed supplies at the end of their shift. The next day, a bucket with supplies is waiting at an on-site central location. It's all about social distancing.
Work schedules have also changed. Staff has staggered start times in half hour increments. No one is in the yard together. Safety first for everyone.
Doing things in a new way with the goal of keeping everyone safe is our top priority. We are proud of our DS Inspectors who are leading the way!