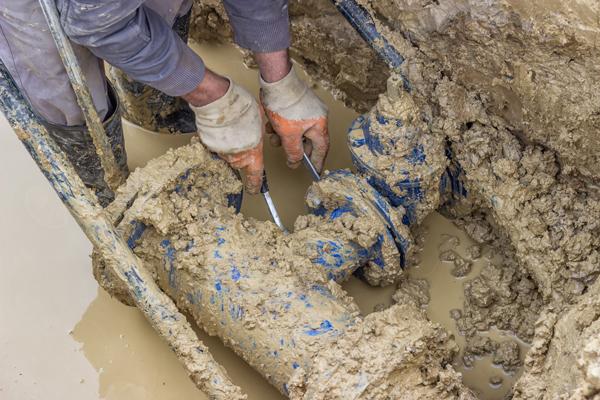 What Goes Into a Water Leak Repair?
As a homeowner, you may understand the basic steps of handling a residential water leak, but do you know the process San Jose Water (SJW) undertakes to manage a large-scale repair? For water utilities like SJW, repairing water leaks takes coordination with multiple parties to properly identify, prioritize and safely repair water leaks. In this article, we'll delve into SJW's process for investigating, troubleshooting and repairing street leaks and talk about what to expect if you discover a water main leak.
1. Customers Report Water Leak
The first step in any water leak typically starts with a customer call contacting Customer Service or notifying us through social media accounts like Twitter and Facebook that there is a problem. It's possible to fill out an online form, too. During this step, critical information is collected such as the exact location of the leak, the source of the leak (e.g., meter, street and hydrant) and the severity of the leak. Because leaks are prioritized by severity, which can vary anywhere from a drip to a major gush of water, first responders play a very important role in the process.
2. Representatives Identify and Categorize Water Leaks
Based on the initial reports, SJW representatives are dispatched to officially identify the type and severity of the reported leak. Leaks are categorized by escalating severity as code 1, 2 or 3.
Code 1: Water is observed without much pooling.
Code 2: There is indication of pooled water with runoff down the street.
Code 3: There's a severe leak with gushing water, which is considered an emergency resulting in immediate dispatch of SJW resources.
3. Representatives Enter Maintenance Ticket and Notify Other Utilities
Once the situation has been assessed, SJW representatives fill out an official repair request in the SJW electronic maintenance database. This allows SJW to manage, track and prioritize water leaks. SJW then activates an Underground Service Alert, also known as a USA ticket, as mandated by law to notify other gas, electrical and cable utilities of our intention to work on-site. Utilities have two business days to mark underground infrastructure so SJW can avoid them during repairs.                    
4. SJW Dispatches Resources to Repair Water Leak
SJW repairs all leaks in consideration with safety, lawfulness and priority. It is not possible, and furthermore cost-prohibitive, to repair all leaks as soon as they are discovered. However, SJW is committed to repairing leaks as quickly as possible to minimize the water loss. As evidence of our efficient, timely and safe response to leaks, SJW's non-revenue water – water loss to leaks, firefighting, and main flushing - is approximately 7% annually while the average US utility is experiencing a 15%-20% loss. This is especially notable considering SJW's infrastructure consists of 2,400 miles of pipe with some dating back to the early 1900s.
If you see a water leak, no matter the severity, please call SJW customer service at (408) 279-7900 or fill out our online water leak form. Front-line reporting is one of the most important steps in the process of leak repair. You can also find out more about water leaks on the SJW website.