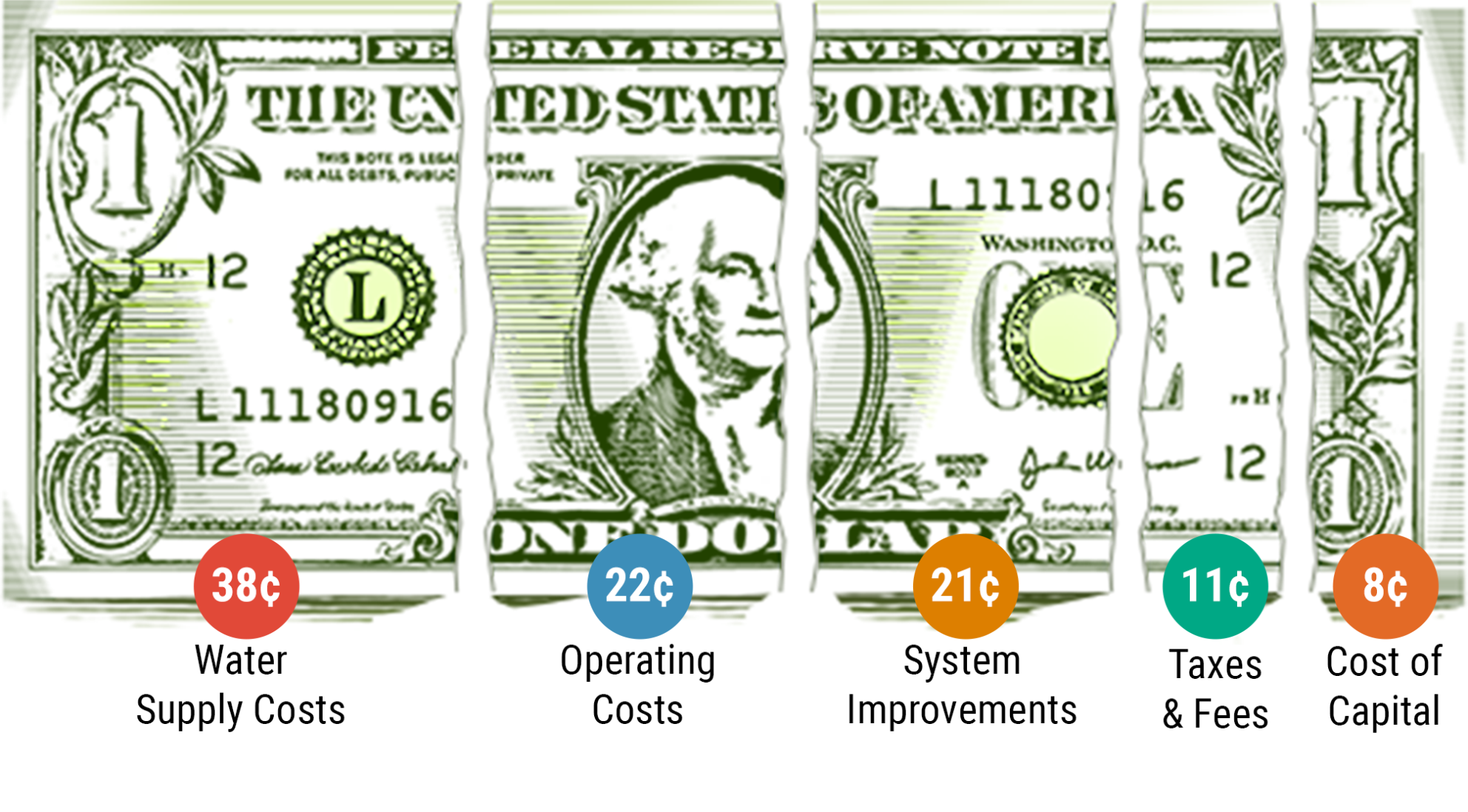 Water Rates and Billing 101: How to Understand Your Water Bill
Understanding your water bill may seem like an intimidating prospect. You turn on the tap and water comes out. How complicated could that be? But if you consider the process behind water delivery, the picture becomes clearer. That's because water rates and the water bill reflect the costs of ensuring safe and reliable water that meets or surpasses all state and federal drinking water regulations.  Knowing the ins and outs of water rates and some of the line items can help you better understand your bill.
Water Rates Are Calculated Based on SJW Costs
Like other utilities, water rates at San Jose Water (SJW) are set based on with the cost of providing service. Costs for the price of water mains and hydrants are considered fixed. These costs make up approximately 70% of SJW total costs. Costs that fluctuate with usage are considered variable. These include the price of electricity, chemicals and labor and make up about 30% of SJW water expenses.
It's important to note that rates aren't set by the SJW, but by a third party known as the California Public Utilities Commission. The Commission determines just and reasonable rates and establishes rates for three-year periods of time.
How Water Rates Show Up On Your Bill
Now that you understand how water rates are set, let's take a look at a typical bill.
Service Charge
The first number shown on your bill is a service charge that accounts for roughly 50% of fixed water costs. In short, it covers half of the costs of getting water to you, regardless of how much water you use. The service charge is based on the size of your water meter.
Quantity Charges
The next line item is a variable charge for the actual water you use. Quantity charges are tiered based on your usage. Tiers are set as follows: 0-6 CCF for first tier, 7-36 CCF for the second tier and over 36 CCF for the third tier. (Note that 1 CCF = 748 gallons of water).
Surcharges, Fees, Taxes
The following surcharges, fees and taxes may also be included in your bill.
The Safe Water Drinking Loan charge is shared by SJW customers to pay back a 20-year low interest loan toward water infrastructure. The Rate Assistance Program Surcharge helps pay for the SJW rate assistance program that allows eligible low-income customers a 15% reduction in their bills.
The remaining Santa Clara Valley Water District (SCVWD) purchase and groundwater charges account for rate changes in water supply costs that go the SCVWD. These include supply costs for extracting groundwater and importing treated water and are passed on to SJW consumers without markup. More specifically, the list is composed of True Up Charges, which back-collect a general rate case that was approved late; a WCMA Surcharge that allows SJW to collect its fixed costs during times of drought; Balancing Account Surcharges that track and charge differences in actual and projected SJW costs; a Memo Account Credit that tracks and credits difference in actual and projected SJW costs; a CPUC Surcharge that is collected to keep the CPUC going (this multiplies SCVWD charges by 1.15%); and a City Utility Users Tax of 5% that goes to the City of San Jose.
Visit our Rate Information, Cases, + FAQs page for additional information.