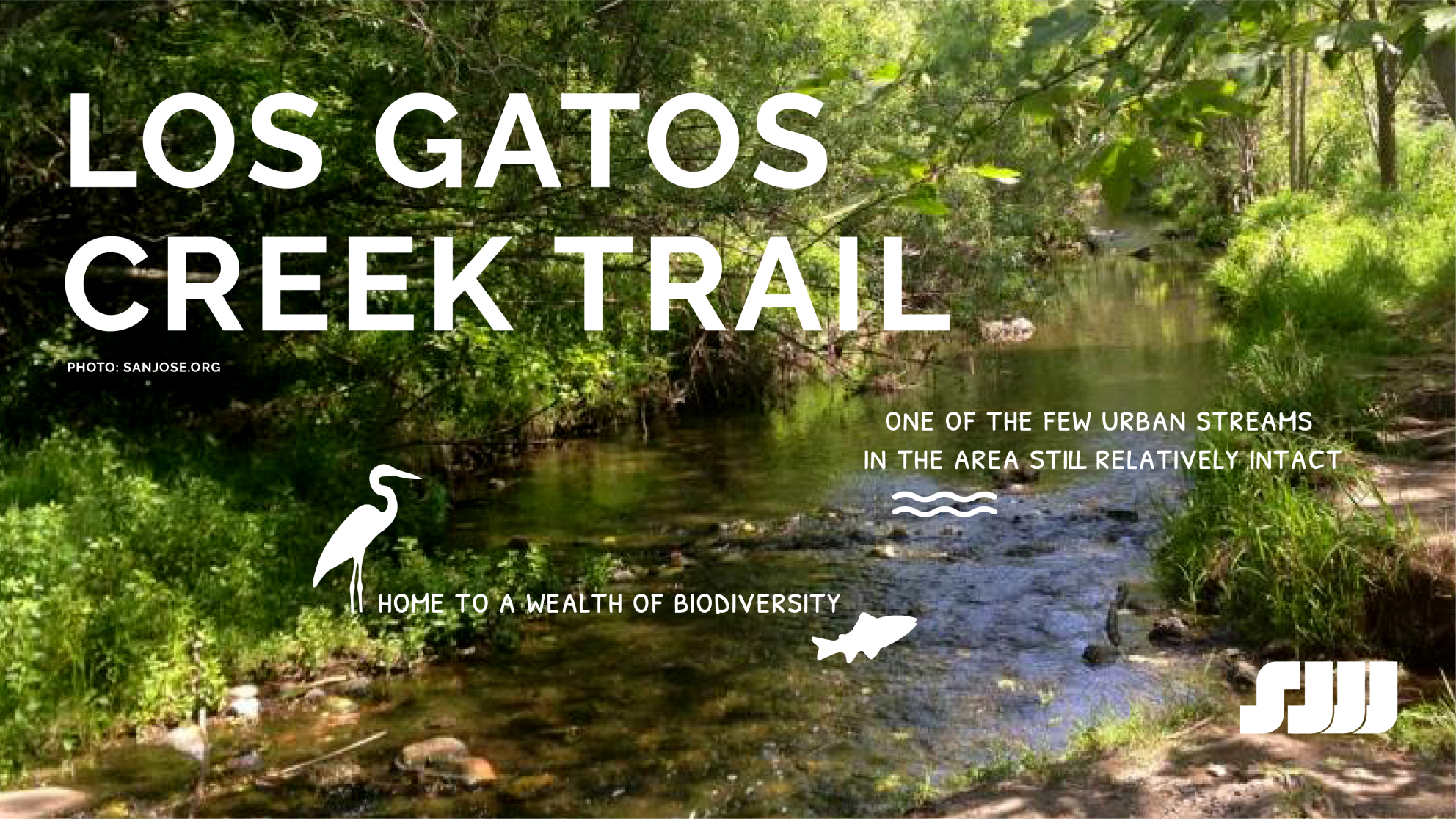 Plan a Trip to Los Gatos Creek Trail
The City of San Jose hosts a wealth of outdoor fun for the whole family. One of the main attractions is Los Gatos Creek. The creek runs for 24 miles from the Santa Cruz Mountains up through the Santa Clara Valley until it reaches downtown San Jose. The creek then merges with the Guadalupe River, which continues flowing northward into the San Francisco Bay.
Where the Creek Flows:
The trail by the creek runs continuously from the Lexington Reservoir up to the intersection of Liebelt Court and Meridian Avenue (~11 miles). It then starts up again at the end of Lonus Street and continues on until West San Carlos Street (~1.5 miles).
Enjoy the wild:
The Los Gatos Creek is one of the few urban streams in the area that is still relatively intact. Though it trickles through the heart of downtown, it maintains a lot of its original natural functions. The Creek serves as a habitat for the plants and animals in the area and provides flood protection for the cities it runs through. Additionally, when surface runoff flows into the creek, the water goes into nearby reservoirs, where it is naturally filtered as it seeps down through the Earth and into underground aquifers.
Source: Yelp user Ron L.
Take a stroll:
Bring your comfy shoes and go for a walk or a run! The trail is flat, paved, and beautifully maintained.
Source: Yelp user Ann L.
Watch the animals:
The Los Gatos Creek is home to a wealth of biodiversity. Chinook salmon and steelhead trout can be seen swimming around the creek, and great blue herons have been seen resting by the water's edge.
Source: Wikipedia
Bring your bike:
The trail is very popular among bikers: it's a long, scenic stretch of clean, car-free road.
Source: Yelp user Pratik G.
Visit the Parks & Museums:
Every few miles, the Los Gatos Creek Trail intersects a fun park or museum. Vasona Lake County Park is one of our favorites; it's a great place to have a BBQ and bring your dog, and even hosts the Youth Science Institute! Other fun stops include the Forbes Flour Mill Museum, the Del Monte Dog Park, and of course our beloved Guadalupe River Park.
If, during your adventures at the creek, you feel like taking a break and stopping for some food, head on over to the Old Town Los Gatos Shopping Center. Home to Icing on the Cake Bakery, the Los Gatos Bar & Grill, Andalé, Main Street Burgers, and much more, you're sure to find something you love.
Los Gatos Creek Trail truly is one of South Bay's many treasures. We hope to see you out there!
Sources:
https://en.wikipedia.org/wiki/Los_Gatos_Creek_(Santa_Clara_County,_California)
https://www.sccgov.org/sites/parks/parkfinder/Pages/LosGatosCreek.aspx
https://en.wikipedia.org/wiki/Los_Gatos_Creek_Trail
https://www.yelp.com/biz/los-gatos-creek-trail-campbell?osq=Los+Gatos+River+Trail