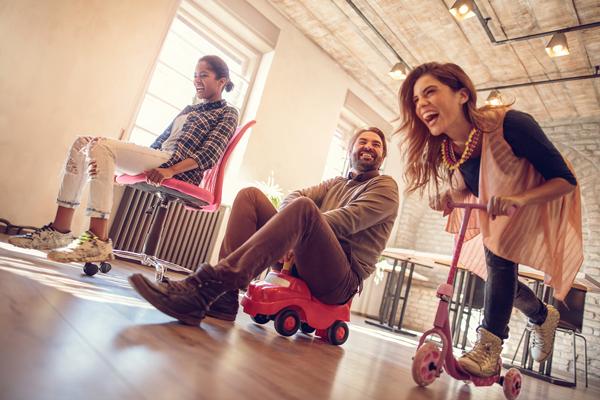 Be a Green Business. Start a Water Conservation Challenge.
When it comes to water conservation, even small changes can have a positive effect on our environment. No matter your size or industry, businesses that promote social and environmental conservation can help make a big difference.
If you are looking to get your employees involved in water conservation with an eye on bottom-line savings and operational efficiency, you may want to start a water-saving, green business challenge. It's a fun, friendly and effective tool to help people become involved in water savings by taking simple steps and positive actions toward a green, sustainable business.
Plan the program. Lead by example.
If a water conservation program is going to be successful for employees at all levels of the organization, it needs the full support and commitment of high-level management. Make a personal commitment to learning about water conservation and leading the effort by example.
You can learn a lot from other businesses that have already implemented water-saving challenges. There are many ongoing and monthly challenges at the local, regional and national level. Check with your local government agency for a list of established water conservation challenges, resources, and helpful information.
Depending upon the size of your company, it's also a good idea to choose and appoint one or two individuals within the organization as "Conservation Captain" or "Green Team Leader." Companies that enroll an employee as the conservation champion tend to get better, long-lasting results. These employees will then work with you to create, implement and maintain your water conservation program.
Finally, before you begin your challenge, check and audit your business's water usage. You'll need to know how much water your business uses to establish a baseline, set goals, chart your progress and gauge how to measure success. A good place to start is your water bill, which includes your monthly and annual consumption history.
Make it fun and goal-oriented
If you're not sure where to start, work with your Conservation Captain and other internal team members to brainstorm ideas and water conservation suggestions that are unique for your business and water usage.
You'll want to define the program by deciding on a budget, time frame and structure for the challenge. Remember, besides the time for the actual competition, you'll need to build in additional time for planning, employee enrollment and to measure success. You may also want to check out some national resources for tools and information to help you along the way.
It's a good idea to raise awareness about the program throughout your organization. Let people know what you're trying to do and what goals you're trying to reach together. Get everyone involved. Choose a fun name for the competition — you may even want to hold a naming contest for the challenge as a first step.
Implement the plan and teach water awareness
Successful water savings awareness starts with a consistent program message. If you are going to create long-lasting, sustainable change, people must be clear on the goals and expected outcomes.
Your program message should clearly tell people:
The goals of the challenge
Why they should participate
How it works
How to get involved
Be sure to announce the program to all employees. Deliver the message through various means so you don't leave anyone out. Share the message in team meetings, email, website, social media, print media, mail or even a special company-wide event.
Share additional and daily water conservation information using signs, tip sheets, posters, and calculators. It's also a good idea to use an employee newsletter, your website, internal emails, webinars and social media to communicate additional tips, ideas, chart progress and even recognize outstanding teams or individuals. Teaching water awareness and sustainability is a lot like drip irrigation — feed your employees just the right amount of information at the right time so that it sinks in.
Be sure your plan includes specific challenges that help increase participation and encourage friendly competition. For example, if your business has different teams or work shifts, run a series of weekly, monthly or quarterly contests to see who can use the least amount of water. As employees start to think about their water use, you should see water consumption decrease.
Reinforce and reward
To keep people engaged and create long-term habits, you should provide continual reinforcement and rewards as each goal is met. Since you're creating friendly competition between employees or teams, you'll need to keep score and post results in multiple places. Use charts, graphs, and other records to show progress. These serve as a visual reminder to your employees and illustrate how effective individual and team goals are relative to the progress of the entire organization.
If you've developed a yearlong program, it's helpful to divide specific actions and progress into quarterly, monthly, even weekly and daily intervals. It's important to show people how to get to the end goal without overwhelming or inundating them with too much information at once.
Do you know what motivates your employees? Each business has a unique culture, but everyone wants to be recognized and rewarded for efforts made toward the collective goal. Be sure to recognize every participant in some form, perhaps with certificates, window clings, mugs, T-shirts or some other small incentive. Consider special types of awards for top achievers. They can be physical awards (like a trophy or plaque), monetary prizes or even something as intangible as a press release or mention in the company newsletter or website. Tie the awards back to your goals and create special recognition categories like "Most Improved," "Biggest Water Reduction" or "Most Innovative.".
Evaluate
At the end of the program, be sure to evaluate the program so you know (and document) what worked or what areas may have needed improvement. You may even want to send out an internal survey to gather opinions and ideas for future planning. If you're thinking of running another competition, you may want to ask and discuss a few important questions:
Did you have as many participants as expected? How can I encourage more people to participate next time?
Did we communicate too often, just the right amount or too much? What was most effective, or preferred? Are there other ways we can engage people?
Did we provide enough training resources and information for participants to be successful? What else could we create that would help enforce water savings moving forward?
Get more water-saving tips for your business and home!
Follow us on Twitter.