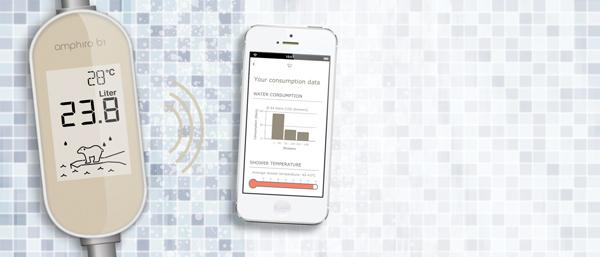 6 Smart (and Stylish) Water-Saving Devices and Gadgets
Are you looking for new ways to improve your water efficiency?
For starters, you may want to conduct a home water savings audit to check for inefficient plumbing fixtures and appliances, as well as leaking toilets and faucets. A water audit suggests ways you can use water more wisely to keep your home or business as water efficient as possible.
Another great way to conserve water is to consider installing water-saving products, technologies or gadgets in your home. The list below suggests some technologies that might be right for you, but we encourage everyone to schedule a water audit or check with a plumber before making any major purchasing decisions.
Want to know exactly how much water or energy you're using while showering? This easy-to-install shower meter integrates between a shower hose and a handheld shower hose head to display the energy consumption of every shower you take (in real time), so you can keep track of and reduce water usage.
According to Amphiro, just one minute of showering uses more energy in a household than is needed for all your electronic devices for a whole day. The device is powered by a small generator that harvests the energy for the display and electronic components from the water flow. When water runs through the device, the display switches on and the meter begins measuring water and energy consumption via fun, polar bear animation!
The really cool thing about this device is that you don't need any tools or batteries to install — and you can connect the meter through a mobile app via Bluetooth and get statistical and trend data on your water and energy consumption.
The Tap-N-Flush is a toilet converter kit that lets you take your existing toilet and convert to a dual flush system, where you can choose from two different flush types (small or large).
A small flush is used when flushing liquid and paper waste (which can save up to 70% of the tank water). A large flush is used for flushing solid waste.
According to the U.S. Environmental Protection Agency (EPA), the toilet is the largest consumer of water inside the home  — responsible for up to 30% of total indoor usage. With the Tap-N-Flush, an existing toilet can be converted to use as little as 1 gallon per flush for a small flush.
This affordable kit ($35.95 + shipping) installs in minutes and can save a family of four converting to dual flush up to $100 a year. And as a bonus, the company donates 5% of its profits to CharityWater.org, which brings access to safe drinking water to millions.
Whether you're a singer or a daydreamer, the Waterpebble is a handy, water-activated shower timer that reminds us to get out of the shower more quickly.
The Waterpebble is super simple to use and inexpensive. Just put it near the drain of your shower. The gadget senses the water flowing around it, so there is no on/off switch needed. It flashes green at the start, when you're using an acceptable amount of water; it switches to yellow when you're halfway through; then it turns red to signal it's time to stop the shower.
According to the company website, Americans use a whopping 1.2 trillion gallons of water for showering (17% of our indoor water usage). Just by shortening your showers using the "traffic light system," you could save up to $300 per year on water/energy costs (or 12,700 gallons of water).
Whether you're a smart budgeter hoping to cut your power and water bill or you simply want a better way to manage your garden and landscaping watering, this Alexa-enabled sprinkler system will make your life a whole lot easier. Not to mention the fact that it can help you save up to 50% on an outdoor water bill.
Of course, any smart sprinkler controller can save water and money compared to a simple timer, but the Rachio uses voice (Google Assistant or Amazon Alexa) or smartphone-controlled technology to respond to real-time weather conditions and forecasts, so you can skip watering when rain is predicted. You can even tailor it to your specific yard needs and set up customized zones by adding in details such as plant or soil types and sun exposure. The Rachio automatically calculates watering cycles to deliver just the right amount of water.
Know that feeling when you're the last person to take a shower and you suddenly run out of hot water? You might want to consider a tankless or demand-type water heater with a space-saving design that frees up square footage.
Tankless water heaters provide hot water as needed, which means they don't produce the standby energy losses associated with regular storage water heaters. Tankless water heaters heat water directly without the use of a tank. In fact, they're generally about the size of a suitcase and are wall-mountable.
When a hot water tap is turned on in your home, cold water flows into the unit. A flame ignites and warms an exchanger that then heats the water. The heated water passes through the exchanger and exits from a hot water outlet pipe directly to your faucets or shower. The tankless water heater adjusts the flame output as needed to ensure the temperature set point is maintained.
For most homes, the water savings can be anywhere from 8% to 50%, depending on how much water you use and how many tankless water heaters you have. ENERGY STAR® estimates that a typical family can save $100 more per year with an ENERGY STAR®-qualified tankless water heater.
This good-looking electronic touchless kitchen faucet turns on and off with the wave of a hand, which means you're hands will be free for other tasks, and your kitchen stays more hygienic.
The two-function spray head switches between stream and Sweep® spray, a wide forceful blade of water for better cleaning. What's great about this touchless faucet is the temperature memory function that keeps water temperature right where you like it. And even better? The 1.8-gallons-per-minute flow rate meets strict code requirements set by the state of California for new kitchen faucets.